Introducing Our Student Representative Council (SRC)
The Academies' programmes aim to develop students who are ethical, public-minded and who possess a pluralistic outlook. Both curricular and co-curricular activities work to educate effective home-grown leaders who are actively engaged in their local communities and are aware of the implications of their actions. One of the ways in which students get to exercise this leadership in a direct way is by representing their peers' voices through the Student Representative Council (SRC). Students have a chance to campaign for specific positions within their Year Levels and additionally, in year 5 or DP1 for Executive Positions. Please join us in congratulating the following students on their elected positions. We wish them every success in the coming year as they learn how to be "ethical, public-minded and pluralistic" leaders.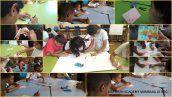 Hard at work during their first meeting
Junior School 
SRC Executive Committee (Year 5)
Presidents: Sarina Alibhai and Ameir Muravvej
Citizenship Representatives: Thea Shah and Lyndon Mwango
Action Representatives: Munira Nassor and Jaison Hira
Expression Representatives: Billan Abdi and Carson Kariuki
Academic Representatives: Ojaswini Pandey and Alvin Sheja
House Representatives (Year 4)
Eagle (Tai)/Yellow: Alexandra Hart and Samier Hamdi
Ravens (Kunguru)/Blue: Harvi Vekariya and Ayman Ladha
Hawk (Mwewe)/Red: Ava Devani and Kian Moolraj
Falcon (Kozi)/Green: Nahal Swaleh and Robert Richards
Class Representatives
Year 1: Ibtisam Hamdi and Harith Muses
Year 2: Shani Magotsi and Ali Gulamhusein
Year 3: Fatimah Kanji and Mahin Patel
Year 4: Manha Khan and Enock Odhiambo
Year 5: Romeo Safari and Aamal Lota.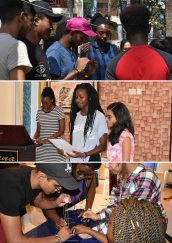 Planning and team-building at the SRC Retreat
Senior School
SRC Executives
Presidents: Reniish Kanjiyani and Joy Abuto
Academic Rep: Bilal Adamjee
Expression Rep: Osman Mahmud
Citizenship Rep: Lovely Mughalu
Action Rep: Azaan Sayani
Finance and Events Secretary: Eesha Jamal
Dorm Rep: Marco Tiyo
Day Rep: Delilah Tende
House Rep: Anais Shalita
Tuckshop
CEO: Muskaan Bhaidan
Human Resource: Anjiya Ali
Marketing and Events Manager: Jordan Ssewakiryanga
Finance Manager: Fardeen Shivji
Procurement Manager: Abbas Alibhai
House Captains
Falcon House Captains: Gabriella Mukisa and Jonathan Ssemuwemba
Eagles House Captains: Anais Shalita and David Solomon
Hawks House Captains: Anoush Alibhai and Joshua Byrauhanga
Ravens House Captains: Natalie Njuguna and Aaryan Ajani
Year-Level Representatives
Year 10:
Academic Rep: Raphael Mwachiti
Action Rep: Omar Mwakuluzo
Citizenship Rep: Namirembe Nnaggenda
Expression Rep: Yolandah Tulina
Year 9:
Academic Rep: Andre Lupembe
Action Rep: Abdulkhan Yusuf
Citizenship Rep: Mwendwa Mule
Expression Rep: Mohammed Abdi
Year 8:
Academic Rep: Zahra Noormohamed
Action Rep: Ethan Telo Olweny
Citizenship Rep: Faith Kasi
Expression Rep: Nadia Ntege
Year 7:
Academic Rep: Sakina Rashid
Action Rep: Joy Mutua
Citizenship Rep: Gabriella Achieng
Expression Rep: Kelly Ashitsa
Year 6:
Academic Rep: Ilhaam Hassanali
Action Rep: Sanaa Gulamhussein
Citizenship Rep: Alyssa Shamji
Expression Rep: Tugi Mwige