Golden Climate Olympiad 2018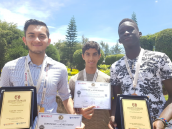 Three of our students went to Nairobi on 5 April for the International Science Fair Competition–Golden Climate International Environmental Project Olympiad and represented the Aga Khan Academy Mombasa. The Science Olympiad is an annual event that attracts students from about 30 countries from all over the world every year. Our students brought home two silver medals and 1 Bronze. 
One of the students, Kaleem Adamjee, a year 7 MYP student. Kaleem's project focused on using the Biodegradable 'madafu' (Swahili for coconut) remains to plant seedlings to avoid the use of plastic bags. This comes at a time when the plastic bag ban was recently initiated in Kenya. Kaleel was awarded Silver.
Armaan Jamal, a DP1, student presented a project on use of seaweed to provide biomass for energy instead of cutting down mangrove trees along the East African coastline to make charcoal. Mangroves provide home for thousands of species of organisms. Armaan was awarded Silver medal.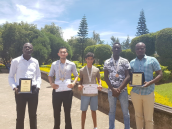 Jordan Ssewakiryanga, a year 10, MYP student presented his project on making an ecofriendly herbicide to kill water Hyacinth in Lake Victoria. Water Hyacinth as an invasive species has continued to reduce biodiversity in Lake Victoria and controlling it has been a nightmare to the Government of Kenya. Jordan comes up with a possible sustainable solution to the management of the stubborn water Hyacinth. He was awarded Bronze. 
Five years in a row our students have continued to make as proud in the International Science Olympiad and the Aga Khan Academy is now known for meaningful and viable projects as well as powerful presentations with good command of language from the side of the students. They have demonstrated that they are excellent communicators as well as knowledgeable; engaging with issues and ideas that have local and global significance.
By Godfrey Kokeyo