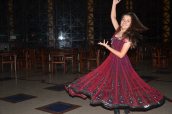 Colourful lights, traditional Garba songs and groups of people swirling to the music filled the Commons on the night of 07 November, 2015.The Academy's first Garba Dance Night was a huge success with a large turnout of both residential and day students from a variety of backgrounds.
The aim of the event was to share the Indian tradition of "raas-garba" with the school community. The Garba dance originated in the Indian state of Gujarat and is performed in circles. The circular movements of Garba have similarities to other spiritual dances, such as those of Sufi tradition.
For many of the students with no Indian background, it was their first time doing the Garba Dance. Those who were familiar with it thus took initiative to teach the newcomers the sequence of the circular movements. It was a beautiful cultural exchange and also a great bonding experience as the dance really promotes a sense of unity since it is performed in synchronization with the group.
This event highlighted the spirit of appreciation for diversity within our community and promoted Pluralism, which is one of the most important AKA strands.
By Inaara Gangji
Click here to view pictures from the event.
Photos by Farosat Alamshoeva