French Ambassador Visits the Academy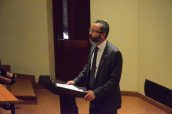 His Excellency Rémi Maréchaux speaks to Diploma Programme students at the Aga Khan Academy, MombasaOn Friday, 22 January 2016, the French Ambassador to Kenya, His Excellency Rémi Maréchaux, visited the Aga Khan Academy, Mombasa. The Ambassador met various members of staff and also delivered a lecture to the Academy's Diploma Programme students.
In his talk, the Ambassador elaborated on the collaborative relationship between Kenya and France, and the mutual benefits it brings. He highlighted that the partnership is based on shared national interests including regional stability, economic opportunities and global challenges. Additionally, he identified Kenya as a key player in Africa and especially appreciated Kenya's focus on renewable energy projects.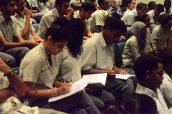 Students take down notes during the Ambassador's lecture and ask him questionsPresenting his government's stance on engaging in a relationship of partnership rather than one of assistance with Kenya, H.E. Rémi Maréchaux spoke about the collaborative efforts between French and Kenyan universities. As a result of a signed agreement, university research labs that are co-funded by France and Kenya will provide a platform for knowledge sharing that is mutually beneficial.
The Ambassador's visit was very well received by DP students, who found his talk very interesting, and asked him insightful questions on French foreign policy and current affairs. The inquiry-based approach that the students gain in their Global Politics class was quite evident in the critical thinking and research skills they employed to construct well-informed questions.
By Haifa Badi-Uz-Zaman