The Fight for Accessible and Affordable Sanitation for Women
Accessible and Affordable Sanitation for Women (AASW) was founded in mid 2017 by Ziyaan Virji. AASW's goal is to provide reusable pads for females in East Africa who don't have access to this basic necessity, empowering women to fight for equity in the society today that limits their potential due to natural phenomenons they cannot control, namely the menstrual cycle. This would be done by creating menstruation pads that are reusable, hygienic, cost-effective, comfortable and easy-to-make for females who may not have access to menstrual hygiene.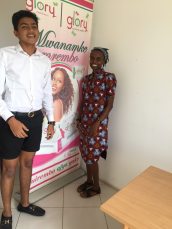 Ziyaan with a local partner in Tanzania It all started when I was walking down the aisles of a supermarket and I passed by the sanitary products section. The most astonishing price tag in that section was the price tag of factory-made sanitary pads.
Living in a Less Economically Developed Country (LEDC), questions arose in my mind. Why are these products so expensive? What materials are used inside of these pads? How do girls that are below the poverty line afford menstruation pads, if they can't even afford basic needs like food and clean water? 
With the Personal Project Proposal due in two weeks, I went on to do further research and I found out that most households live under 1 dollar a day, whereas a contemporary pack of menstruation pads costs 1.2 dollars. I also discovered that only 2% of pupils in urban areas in Tanzania can afford sanitation pads, females in East Africa miss school, work and don't carry out daily activities during their menstruation period. Continuing my quest to find out about this issue, I asked my mum about it, and quite bewilderingly my mum was one of those who didn't have access to menstrual hygiene when she was young. I was intrigued and inspired to solve this issue in my community. I had come to a conclusion that in solving this issue the goal of my project would be to create cost-effective, reusable, comfortable and hygienic menstrual pads for women who don't have access to sanitary hygiene in Tanzania.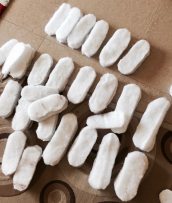 Cotton batting used as the inserts for the reusable sanitary pad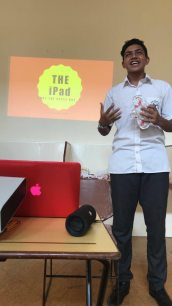 Ziyaan presenting his project at the Personal Project Exhibition I started my journey by looking at different online prototypes of re-usable pads. Since I had minimal knowledge about menstrual hygiene, I also interviewed females of different ages about the different expectations they would have when buying a menstrual pad. After collecting all my information from online prototypes and interviews, through the use of a range of ATL Skills and IB learner profiles, I created my very own prototype using cotton flannel, cotton batting and a water-resistant material. During the process I faced a range of obstacles; language barrier, funding and sensitivity of the topic. Firstly, the only funding I got was from my parents which was very hard to manage because I had to minimalize a range of factors in the production of my product. The obstacle of language barrier and sensitivity of the topic went hand in hand because when I went out to buy the material for my product, my gender and my lack of fluency in the local language of Swahili made it very hard for me to communicate with local sellers and the tailor I worked with. However, I overcame these obstacles with the help of my dad and by using persuasive language. After crafting the prototype I was able to give out seven re-usable pads for a pilot trial. I received feedback on my prototype which enabled me to reflect and make the required changes in my product. The final obstacle I faced was looking for a group of females that needed access to menstrual hygiene. I sent out an email to over ten NGO's in Tanzania seeking to collaborate with them to give out my product. Out of those, only Ms. Hyasintha from Kasole Secrets replied. Meeting up with her, I was able to collaborate with her organization to give out my product to 22 females in an unnamed school in Moshi, Tanzania. 
From this experience, I've learnt to take responsibility of myself and for the community I live in. I've grown as a mature individual understanding the issues my community is facing and seeking different ways to solve these issues. I believe in Mark Twain's quote; "The two most important days in your life are the day you were born and the day you find out why". During my Personal Project implementation, I feel like I experienced the second most important day in my life because I realized why I was born. I was born to make a change in the community I live in. During this process, I also realized that access to menstrual hygiene is an issue that will always be there, which is why going forward I plan to bring my project here in Mombasa and give females in Mombasa access to menstrual hygiene.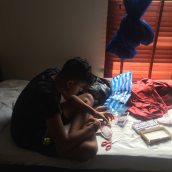 Ziyaan working hard to stitch together pads I want to thank both my mum and dad for consistently supporting, accepting and encouraging me despite their backgrounds, upbringing and the sensitivity of the topic. I would also want to thank all of my friends who supported me and helped out in my project.
 By Ziyaan Virji (Year 10)