Exemplary Performances at Kenya Music Festival
Our highly talented and dedicated students did us proud at the Kenya Music Festival this year, progressing strongly from the sub-county, county and regional level competitions to present their music and traditional dance pieces in Nairobi at the national level.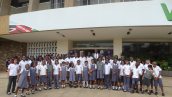 Philip Mbinji with the Academy students in NairobiOut of about 29 pieces performed at the Finals, our students managed to get five firsts, one second and two thirds in addition to many top-ten positions clinched during the Finals. This is an incredible feat, considering that they bested dozens of talented students from across Kenya.
Special first-place mentions go to Abigael Obiero (Year 3) for her solo piece "Cradle Song" by Fwame Schubert, Dinisha D'Silva (Year 3) and Abigael Obiero for their duet of "Do-Re-Mi" from "The Sound of Music", Diya Gohil (Year 6) for "Silent Worship" by George Frederic and Handel, Saumya Gupta (DP1) for "The Entertainer" for the Advanced Piano section and last, but not least, Rishika Ghokale (DP1) for her Bharat Natyam solo dance-piece (classical Indian dance).
Congratulations to all the students who participated as well as their parents and teachers!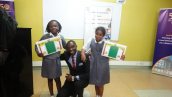 Abigael Obiero and Dinisha D'Silva with Mr. Mbinji The choral director, Philip Mbinji said "We have done very well and I am proud of the students because I know they gave their very best" Mr. Mbinji also said that there has been a sharp increase in the number of students interested in singing in the choir as well as playing other instruments at the school over the past few years and he hopes to continue to receive the much-appreciated support from parents and the school administration.
One of the participants Saumya Gupta, shares her experience:
What was your experience like training for and participating in this festival?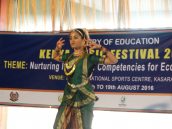 "Being my first time participating in the Secondary level, I was extremely nervous, not only about performing but also about preparation. Because muscle memory is quite important when playing a ragtime piece, I tried my best to practice a lot, even during the 2 weeks I had traveled. Apart from that, I used to go to school almost every day to use the pianos without distractions. It was definitely hard to get up in the morning for practice but the challenge that came with reading a piece that I found difficult was motivating".
Rishika Ghokale performing her Bharat Natyam soloWhat was your most memorable moment?
"Surprisingly, my most memorable moment was not winning or making it through my performance; rather it was the first time I played the piece, at home, from start to finish. This piece, The Entertainer, was one of the harder songs I had ever sight-read and learnt myself, so the moment when I successfully managed a full run through was insanely gratifying".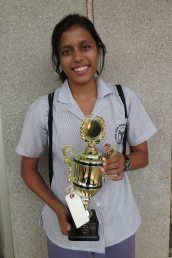 Saumya Gupta with her trophy for her piano pieceWhat is the most important thing you learnt from this experience?
"The fatigue of traveling combined with performance anxiety made me very dull the morning of my performance. But what Ms Pauline told me then will stick with me for a long time: "No matter how accurate your notes or dynamics are, the one thing that will set you apart is if you enjoy your music." During my performance, I truly enjoyed playing (I was grooving along with the notes like those mad musicians on YouTube) and even though I made a mistake towards the end, I felt like I actually put on a show. So for all the musicians/shower-singers reading this, just remember to always enjoy yourself, no matter who is watching or what they are saying".
By Aleesha Suleman