Enrichment Hosts Sessions on Menstruation
To make young women more aware of how their bodies function, the Be Feminine enrichment began having sessions for year 7s on menstruation and what that means for women.
Be Feminine is an enrichment focusing on issues relating to women and allows female students at the Academy to come to a safe space and discuss topics impacting them. Some of the topics discussed include female hygiene, self-esteem, personality types, emotional health, human sexuality and feminism in professional or academic settings.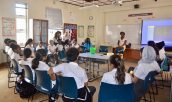 Year 7 girls meeting to discuss the menstruation cycle.However, this year Be Feminine decided to give some attention specifically to year 7 girls when the enrichment focuses on the topic of female health and hygiene.
"We decided to create awareness about menstruation," said Phelesters Obendo, Be Feminine's coordinator and a Teacher Preparation Program Intern at the Academy. "These sessions are to create awareness for those who are yet to experience menstruation, as well as to give information to those who have already began this cycle and clear any misconceptions."
Phelesters said the enrichment focused on year 7s because she felt these sessions would be more beneficial to this group of girls, whereas year 6s might be too young.
"I want these sessions to make year 7 girls feel comfortable and be proud of this phenomenon that makes all women uniquely beautiful," Phelesters said.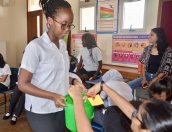 Year 7 girls were encouraged to write any questions/comments about menstruation, which were discussed later as a group.Be Feminine held its first session on the menstruation cycle last Friday, 27 September, by having an open discussion about what menstruation is and answering any questions the students might have about it. Phelesters said the enrichment will have more sessions in the near future because this topic is important to understand for both women and men.
"Let's talk about the menstruation cycle as a positive thing," Phelesters said. "Men or boys need to see this not as 'the time when women get grumpy,' but as something important to ladies or girls."
For the future sessions, Phelesters said she wants the girls to be more proactive and have a good support system for them as well.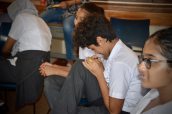 Year 7 girl writing down a question/comment about menstruation."I want the girls to do some hands-on activities while talking about real-life scenarios," Phelesters said. "I also want to have older girls educating the young ones so we can create a safe girls' community in the Academy and beyond."
By Anusha Lalani