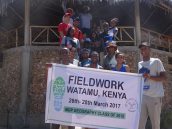 Students pose for a picture.At the Aga Khan Academy Mombasa, the Department of Individuals and Societies recently concluded its module of Learning Expeditions in the form of fieldwork for Geography and Environmental Systems and Societies (ESS) in an educational trip to the Watamu region of Eastern Coastal Kenya. They studied the Mida Creek in its entirety, including the human, mangrove and marine landscapes.
The Diploma Programme - with its rigor and inquiry - makes fieldwork an essential and integral part of the interaction of Group 3 subjects. The department took this opportunity, to take its students out of the four walls of the classroom into the real world whereby they could appreciate the dynamics of human life and physical environment in a profound way.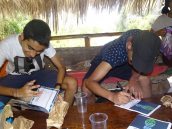 Students compile data they collected during fieldwork.The DP1 class, with its Geography Higher and Standard Levels and ESS Standard Level groups, collaborated to understand the realities of this land inhabited by the Giriama ethnic communities. The learning expedition to the Arabuko Sokoke Forest, Mida Creek and the larger Watamu region helped the students understand the vagaries of nature and how they play with the outcomes for the local economy and disrupted livelihoods. "We were able to understand aspects of zonation in more depth and became aware about the contribution of humans within both the destruction and conservation of ecology," said DP1 students Samara Nassor and Josephine Awino.
It was indeed fieldwork which brought the students face to face with the realities of the physical and human world, the conflict for resources, the uncertainties of climate and the helplessness of human institutions. Despite the searing heat however, the DP1 students marched on with purpose and were successful in collecting primary data using various tools of surveying and data capture.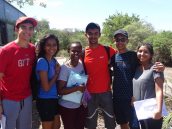 Smiles all around after a successful learning expedition!DP1 students Sabrina Turonshoeva and Catherine Delight found the expedition to be a truly rewarding experience. "Meeting truly caring people with kind hearts, who are willing to take care of the planet and protect the ecosystems was really heartening. We gained a lot of knowledge about our environment and the ecosystem, specifically about turtles, marine ecosystem, mangrove whelks and Arabuko-Sokoke Forest and learnt about different ways of conserving our environment and making the world a better place," stated Sabrina and Catherine.