DP2 student continues personal project
What started as a personal project in year 10 for Aalin Thayani, DP2, is now something she hopes to focus on after graduating from AKA Mombasa.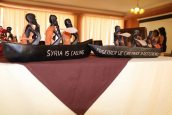 For her personal project in year 10, Aalin focused her project on raising money for Syrian refugee children to donate to Focus Humanitarian Assistance (FOCUS). She called her project, "Syria Is Calling".
"At first, I didn't know I was going to do this project," Aalin said. "I was all about how a normal student is supposed to be: a casual science experiment or something that can help the agriculture in Kenya because that's the only issue we look at, like what's going on in Kenya. Then I talked to my mom about it and she was like 'why are you being so close-minded, try branching out.' So after that, I kept watching the news and this idea for Syria hit me and I thought, 'no one's ever done anything for this.' So I started talking to my parents about it and they said they were going to support me with whatever I needed to do."
Through three fundraisers she held in Kampala, Uganda, Aalin said she was able to raise $9,020, which exceeded her expectations of raising $5,000.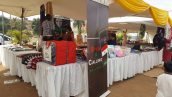 The first fundraiser Aalin held in Kampala, Uganda, where she sold shoes and bedsheets that were donated."We had two fundraisers during Eid," Aalin said. "In one fundraiser we sold shoes and bedsheets and the other was toys and shoes. The biggest fundraiser was the last one, which was a session where I spoke to people. It was also a cooking session with my grandmother, who is known for her cooking in my community. We got a hall for free, so everything was 100% free and then we sold tickets and people came. We started by me giving this speech and telling everyone why they were there, what's their purpose, what's this major event and how everything they do contributes to it. Then we moved to the cooking session and the food was sold and people took campaign pictures."
Aalin said she received positive feedback from her community in Kampala and the Syrian community she got to know.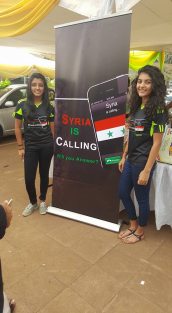 Aalin Thayani, DP2 (left), at her first fundraiser."From my community, I had a really good response, but also from the Syrian community I had a good response," Aalin said. "When I started the fundraising, I got into contact with some Syrian teenagers of my age who came for Global Encounters. I started talking to them and they started telling me about how some of them lost their brothers or sisters, so it got really emotional for me. I was so lucky that we also had a STEP teacher (a religious education teacher) in Uganda who was Syrian. So I had the chance of talking to him and he helped me out with getting into contact with important people who would help me in the process. The fundraisers weren't just about my community; it was like I was a bridge between my community and the Syrian community I was in contact with."
Two years later and Aalin said she continues to feel connected to her personal project, which she wants to pick up again this summer after she graduates.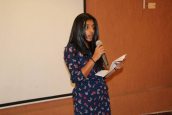 Aalin speaking at her third fundraiser."I'm still really attached to my personal project," Aalin said. "I was talking to my mom about it recently and telling her that there's two months this summer that I won't be doing anything and I'm just going to restart all of this again and make it an even bigger thing. I think I want it to be both a fundraiser and spreading awareness. It's going to benefit this community and the other community at the same time."
Aalin said she is hopeful her passion toward this project will extend to other people and continue on.
"This is all about teenagers coming together," Aalin said. "If it's not us who's going to make a difference, then it's not going to be anyone else."
By Anusha Lalani