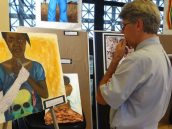 On 12 April 2016, the Senior School Library hosted the DP2 Final Art Exhibition. Classy background music and vibrant art exhibits transformed the first two floors of the Library into an art gallery. It was an open event that was attended by students, parents, faculty, and administrative staff who all appreciated the creativity and hard work of the DP2 students. The Reporters describe and reflect on some of the art exhibits below:
Elsie Makini (DP1)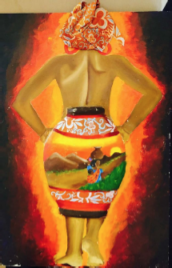 The DP2 Final Art Exhibition featured unique and beautiful pieces on different themes such as poverty in Kenya, traditional African clothing, and female objectification in African society. The theme that appealed to me the most was the role of women in society, captured by Barbara Nasila's painting. It depicts how women are perceived to be of low caliber in many African societies, and are expected to stay at home and do household chores such as cooking, cleaning, and looking after children. Women are often exploited, oppressed, and often forced into doing low-paying, unsecure and unskilled jobs, which do not allow them to earn enough money to cater for themselves and their families. Additionally, women also have to deal with gender-based violence such as rape, beatings and emotional abuse from their partners. "Many people argue that the oppression of women is natural since women are inferior to men. On top of that, it is believed that women are less capable of doing certain tasks that are considered to be 'manly' such as construction and being a mechanic and they also say that women are less intelligent than men. The media also promotes sexist ideas through exploitative portrayal of women. I believe that women play an important role in their cultures and that they have the right to shape and change the cultures to which they belong," says the artist Barbara Nasila.
Preet Savla (Year 9)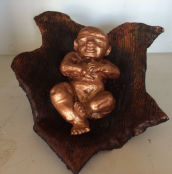 "Mzalendo" is an art piece that was made out of clay by Chizi Gakuo. The piece represents Kenya as a baby. "I wanted to connote the baby with a chance for a new birth and prosperity for the country," states Chizi Gakuo. The baby is cradled by the Kenyan map, which shows how despite all odds, Kenya will progress due to the strong support system that the Kenyan people can provide to their country.   
Riya Haria (Year 9) 
I liked a few art pieces that focused on the global contexts of Cultures, and Identities and Relationships. The piece that particularly inspired me was the one called "In Search of My Identity" based on a famous poem by Rohit Sapra called "I Can Breathe Freely". This artwork describes someone who examines nature to discover a suitable place for their own existence in an effort to understand where the artist belongs and essentially recognize their identity. I was amazed by the artwork of all the DP2 students! The ideas behind their artworks were creative, and the messages were strong. I am looking forward to next year's Art Exhibition and wish the current DP1 students the very best of luck in designing unique art pieces that allow them to express themselves the way the students did this year.
Sadiq Issa (DP1)
The art piece that caught my eye was "Mami Wata" by Sekela Ombura. It depicts a humanistic female water entity, often misinterpreted as a mermaid-like figure from my interactions with fellow attendees, sitting on a piece of coral, gazing out at sea. She is seen holding a python or pearls, stated by the author as symbolism of her past life experiences. In Sekela's vision, she is slowly turning from a human being into an aquatic species, but is not able to fully transform due to her still holding onto "her past" depicted through the piece of jewelry. I feel that the theme of the painting was discrimination and low self-esteem, showing the limits an individual can go to in order to feel at peace with themselves, in this case by the entity changing into another being. It enabled me to understand the true meaning of beauty and where it should lie, in the eyes of the beholder.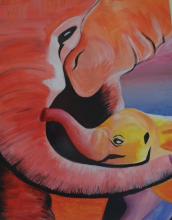 Shashank Arvindan (Year 9)
The piece I focused on was "Ahadi" by Chizi Gakuyo. It is a 70 by 50 cm acrylic painting on a canvas board. She chose the name because it means promise in Kiswahili and the piece itself depicts an elephant and her young one. The trunk movements of the elephants' show a close loving interaction and the mother elephant's contact is representing an endless promise of love and protection brought out through the bright colors of red and purple symbolizing the universality of love. The piece implies that love does not just exist among humans but also other living beings. I personally liked this art piece as Chizi used colors quite effectively to show how mothers do so much for their children. Also, the accuracy with which she painted was spectacular!
Tabreek Somani (Year 9)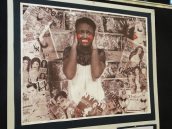 As I was looking around, one art piece titled "Clowned #1" by Barbara Nasila really struck my eye and it had a very interesting message. It was an edited picture of the artist's friend and classmate Natasha with magazines all around her.  Her message was to show the audience how media has affected our desires and how it has shaped our lives in a negative manner. Media creates unrealistic expectations and desires in teenagers that sometimes lead to suicides, and food disorders. Young girls think that to be beautiful, they have to attain the perfect body shape and be perfect in every way possible. This is an unrealistic and troublesome goal. Barbara communicated her message very efficiently and I think her art piece also reminds people that beauty comes from within, not from the way it is portrayed all over the media.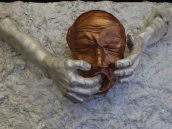 Ali-Mohamed Adam (Year 9)
The art piece that really caught my eye was Juwairiya Kembo's. Among various pieces she made, I found the sculpture "The Call for Help" most appealing. The quality was just superb! Anyone could tell the amount of hard work she put into it. The sculpture displayed a distorted human face trying to speak out while a pair of hands tried to block the mouth. It showed the distorted face of a person in pain, and the veins visible on the hands emphasized the confinement forced upon the person. This sculpture was inspired by the artist Matteo Pugliese's work. The sculpture illustrates the horrors of an individual's past, which can sometimes restrain one from moving forward in life.