DP1 Students Wow Audience With Incredible Performance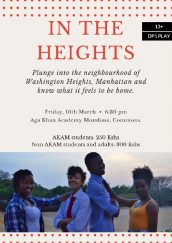 DP1 Play poster depicting the four lead characters. From left: Wacera Muriuki (Nina), Iman Cochu (Benny), David Kamau (Usnavi), Ciku Kimani (Vanessa) On Friday 10 March, the Diploma 1 class (Class of 2018) of the Aga Khan Academy Mombasa exhibited a performance the likes of which has not been seen in Mombasa. It not only raised the bar for every drama performance to come, but simply kicked the bar out of the way. It was an evening full of song, dance and extremely believable acting which simply drew the audience into the world of Washington Heights.
"In the Heights" is a musical written by award-winning actor, performer and writer, Lin-Manuel Miranda, also known for his groundbreaking Broadway musical 'Hamilton.'  At a time when the world is facing serious questions of identity and belonging as well as income inequality, "In the Heights" portrays these struggles and more as it takes us into the lives of the inhabitants of 'el barrio' (the neighbourhood) and on a journey of the relationships, laughter and heartbreak as we question the meaning of 'Home'.
The reverberations of the genius of Miranda have been felt all the way here in Mombasa where the young students pulled off a Herculean task. Everything from directing, acting, singing, choreography, costuming and more, was all done by the students with guidance from their teachers. Knowing this, made the overall effect of the performance even more jaw-dropping.
There was great chemistry between the all the actors and especially the four main leads who made the audience truly feel their love, frustrations, and anguish as they went through the different experiences that life brought them. Furthermore, the songs, accompanied by dances, added a burst of life to the performance and served to cement the place of these brilliant young people in the hearts of everyone in the audience.
If you happen to have missed being part of this amazing night, worry not! We hear that more performances of "In the Heights" may be on the horizon!
See pictures from the event here: http://www.agakhanacademies.org/mombasa/gallery/dp1-play-2017-heights.
By Aleesha Suleman