DP1 Students Benefit from an Immersive Experience in Rwanda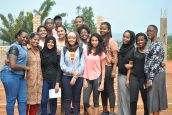 The Rwanda group together!Wednesday June 07 2017, 1:30 AM. Sleep was scarce as excitement ran through my veins; the much anticipated trip to Rwanda had finally arrived. As a student of the Diploma Program, I take Economics as well as Global Politics at Higher Level, therefore the knowledge and skills gained over this trip would fundamentally enhance my understanding of certain theories studied in both classes.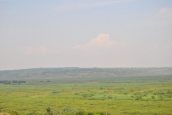 Rwanda, the Land of a Thousand HillsThe drive to the airport involved my father asking me about 100 times whether I really wanted to go on this trip because we could really just go back home and sleep. This was ironic because about a year's time I would hopefully be off to university, and if three days were going to be a problem, I don't know what will happen then. Finally, my father decided to let me go and I joined my friends who, despite the definite eye bags were as joyful as I was. Check in was a swift process and in no time, the Boeing 747-400 was buzzing with the Aga Khan Academy vibe. Seated and ready for take-off we were bubbling with joy as we embarked on our journey to Rwanda, the Land of a Thousand Hills.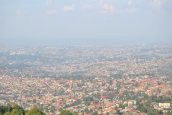 A view from aboveThe moment we stepped off the plane a wave of cool air filled our lungs; a totally new atmosphere than Mombasa. Like a bunch of ducks searching for their mother, we stood outside the Kigali International Airport awaiting our transport that was sadly late. The sun was now beating down upon us. Our tour bus finally arrived and we made our way to the hostel named "Discover Rwanda". "Mille Collines", a Country of a Thousand Hills, was finally a title well understood. With each turn sharper than the next, our driver Innocent, took us on a roller-coaster ride.
Our trip set out to enhance our understanding of the acts that took place from the year 1973, the buildup to the actual genocide in 1994, and we yearned to get an explanation of why more than 1 million human lives were taken over the fact that one group of people had longer noses than the other.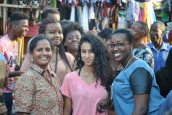 The group at a market in KigaliRwanda has over 45 Memorials all over the country which encourage rememberance in the course of peace and post-conflict healing throughout the country. Such memorials were built for the survivors - an environment in which they are able to feel sheltered whilst mourning the death of their loved ones. We visited three different memorials within the town of Kigali. Each had a different way of telling the country's story in the most heartfelt of ways.
 What we saw, shocked me. I simply couldn't digest it. The faint marks of blood left around each corner of the room, the reasons behind them being the bodies of children, all felt like fiction to me. A room only enough for 30 people, was packed with almost 10,000 people who were terrified for their lives. Grenades designed the buildings, not architects. Blood painted the walls red. Bones overflowed the coffins. Outrage filled my heart. Visiting the memorials took our bodies back to the time of the genocide, made our minds the victims', and our hearts remained in the present, allowing us to experience all the emotions at once. Listening to the stories of the victims of the violence, who'd tell you that they've seen their own mothers being raped, fathers being slaughtered, brothers and sisters being shot at, the inhumanity leaves your tear ducts dry. It was too terrible to be true, too inhumane, too unreal. Countless names were engraved on walls, and flowers rested on each coffin. One overwhelming thought recurred to us: this should never happen again. This was one of the purposes of the memorial, to ensure that history doesn't repeat itself: To learn. To accept. To forgive. To move on. This is something that the government of Rwanda is prioritizing through such Peace & Reconciliation initiatives.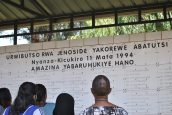 Contemplating the names of the genocide victimsOne thing I've learnt is that the internet doesn't give you the real painting, merely a sketch: You hear the story of how Rwanda 'faced 100 days of slaughter'. However, you don't grasp that there is a 4 year old girl who saw her own mother being raped and father being slaughtered. You don't understand that there is a 12 year old girl leading her family right now because no-one else survived. I was presented with the opportunity to move closer to understanding this, but one thing I will never understand is how mankind has the capacity to witness such atrocities yet remain on the sidelines, doing nothing. In the greatest hour of need, the world failed the people of Rwanda. 
Visiting a country trying to prosper from its darkest moment in history, I saw a model of how great human trauma can be transformed into true reconstruction of the people. It one of the most eye opening and astonishing things about Rwanda, not only the countries in Africa, but the entire world. The trip had its fair share of laughter and tears; the experience was one of the most enlightening I have ever had. I feel it has changed my entire outlook on what violence really means, and how it is not true that a country in which has fallen to the ground, cannot pick itself back up, because this is exactly what Rwanda has done, and is doing.
By Imaan Vaiani
Photo Credit: Imaan Vaiani, Inaara Jiwan, Bhagirathy Jhingran
See more pictures here.