Congratulations to our Ontario Scholarship winners!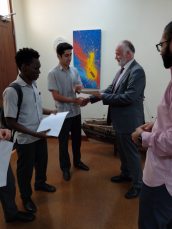 The school community would like to congratulate the following DP2 students who are the recipients of the 2018 Ontario Tuition Waiver: Stephen Githakwa, Nabeel Chudasama, Sabrina Turonshoeva, Abror Alibekov and Masrur Rahimjonov. 
The Tuition Waiver is part of a
historic agreement
signed between the Aga Khan Academies and the Province of Ontario to work together on mutually benefica educational partnerships, also including the
teacher secondment programme
. I
n recognition of shared values and standards, the Tuition Waiver Programme aims to provide access to quality higher education to Academy students in need of financial support. As part of the agreement, 10 need-based, full-tuition waivers are offered annually to students of the Academies at both the Mombasa and Hyderabad campuses and chosen by a special committee through a rigorous process.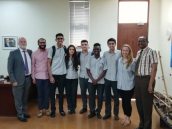 We wish our graduating class the best as they head into their final exams and hope that more good news will follow in the next few weeks and months!