CIS College and University Fair at AKA Mombasa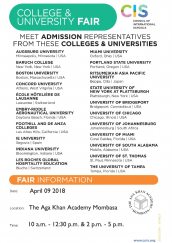 Please join us for the CIS College & University Fair on Monday 09 April! This is the first time that the CIS tour is stopping in Mombasa, and we are very lucky to be able to host universities from US, Spain, Switzerland, Japan, and South Africa! Tours like this don't come to Mombasa often, so don't miss it! Be sure to share this with your friends and family in the coast region.
General Public: 10 a.m.- 12:30 p.m. & 2 p.m. - 5 p.m. 
Aga Khan Academy Mombasa Students: 8:30 a.m.
Participating Colleges/Universities:
Augsburg University (USA)
Baruch College(USA)
Boston University (USA)
Concord University (USA) 
Ecole Hoteliere de Lausanne (Switzerland)
Embry-Riddle Aeronautical University (USA)
Foothill and De Anza Colleges (USA)
IE University (Spain)
Indiana University (USA)
Les Roches Global Hospitality Education (Switzerland)
Miami University (USA)
Portland State University (USA)
Ritsumeikan Asia Pacific University (Japan)
State University of New York at Plattsburgh (USA)
University of Bridgeport (USA)
University of Chicago (USA)
University of Johannesburg (South Africa)
University of Miami (USA)
University of South Alabama (USA)
University of St. Thomas (USA)
The University of Tampa (USA)
Click here for the poster: 

CIS POSTER.pdf