Celebration, Bonds and Adventures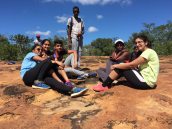 Tabreek with some of her friends After a very stressful year, overloaded with assessments, e-Assessments and e-Portfolios, the Year 10 class finally had the opportunity to celebrate the completion of our MYP journey.  We celebrated this success through the annual Year 10 class trip to Marungu Hills in Tsavo (24-27 May 2017). 
We spent two full days there – the first, doing community service, and the second, hiking up Marungu Hills.  We stayed at Camps International, a beautiful location with an astounding view of the sunset. Camps International runs its programs to help the surrounding local community, and to create awareness for the preservation of Marungu Hills.  These were some of the best days of the whole year because we finally knew we were done. It was also the perfect opportunity to bonding with everyone as we talked to people we may have not interacted with as much during the school year.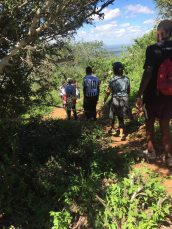 The Year 10s trekking through Marungu HillsOn our first day, the service project we participated in was at Sisinyi Primary School where we helped dig a foundation for an upcoming classroom. We learnt that the school has been supported by Camps International for the past 8 years.  The children were in school when we visited so we had the opportunity to interact with them. It was an amazing experience because it served as a reminder for us to remain humble in all that we do and help those who are less fortunate. 
Our second day was a trek up Marungu Hills. It was a great achievement because we all made it up to the top together. We strengthened our bonds by picking each other up along the way ensuring that we worked together.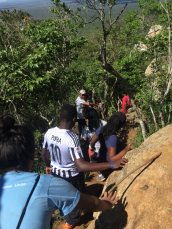 Supporting each other as they climbed back downThis trip was an amazing final MYP trip for us Year 10s. Aside from being a celebration, in was also our last time with people who may be moving to other schools and countries.  We fully united as a strong family through this trip, got to know each other better and learnt what we can do together – anything. 
As we complete Year 10, I am looking forward to continuing my journey at the Academy for the Diploma Program; continuing to pursue my interests as well as getting to know my peers better.  As we head into the summer break, I am looking forward reflecting upon all that I have learnt this year and taking my learning forward into the summer programs I will be attending during the holiday.  These summer programs are the Yale Young Global Scholars Program in USA and Global Encounters in India. Looking forward to an exciting summer!
By Tabreek Somani
Photo Credit: Daisy Biegon