Celebrating World Environment Day Through Education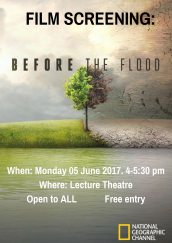 In light of the recent discussions about the Paris Agreement following the G7 Summit and the US President's decision to withdraw the US from the Agreement, it's a pertinent moment to educate ourselves about climate change and what we can do towards reducing our carbon footprint. We have a shared responsibility as global citizens to inform ourselves and act as stewards in these troubled times. 
The documentary, "Before the Flood" (2016), presented by National Geographic, is directed by Fisher Stevens and features award-winning actor, environmental activist and United Nations Messenger for Peace, Leonardo di Caprio. It takes us on a journey around the world to take a good look at the effects of climate change, the efforts being undertaken to combat these effects, and also raise questions about our individual roles in this. 
Join us on Monday 05 June 2017 as the world marks World Environment Day from 4-5:30 pm at the Lecture Theatre to learn more about climate change. Open to all members of the AKA Mombasa Community i.e. students, parents, teachers, alumni and staff members. 
Watch the trailer here. Visit the website for more information.