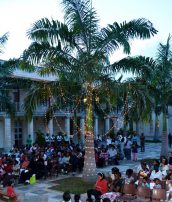 The Academy is now winding down from four marvellous days of celebration for its tenth anniversary.  On 7 December, the fantastically successful Zawadi Bazaar was held at the Academy – no effort was spared to make it the biggest and best yet – and it was, providing a wonderful day out for all. 
On Monday 9 December, our annual Christmas Tree Lighting ceremony was held – this year using one of the large Royal Palms that dominate the front courtyard. The evening concert began with musical offerings from the orchestra, Junior and Senior choirs and the Staff choir, along with smaller ensembles, and The Tribe (the Block 6 boys) performing The Little Drummer Boy in their inimitable style. As the light dimmed, the Head of Academy, Mr Simon Otieno, spoke and then the tree was lit – it was a magical moment, capping off the wonderful music offerings and leading into the community singing of carols.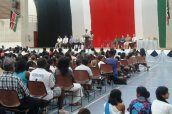 On Tuesday 10 December a full school assembly was held to formally mark the first ten years of the school and also celebrate Kenya's 50 years of independence. The hall was draped both in the colours of the Kenyan flag and the school colours and each student and staff member was given a piece of the anniversary cake as they left the ceremony.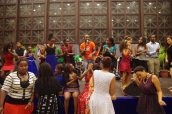 Then in the evening, celebratory events culminated in a formal gala dinner. The evening commenced with speeches from Mr Otieno, past and present students, the SRC presidents and the Chair of the Parents' Association. It was a time for reflection and rejoicing and was interspersed with entertainment: a Tajik dance, and Indian dance and an African dance – the last in tribute to the great Nelson Mandela who died this week. Also performing were The Tribe presenting Cold Play's Fix You to great acclaim from the audience. After the sumptuous food prepared by our kitchen staff it was time for the main act, Eric Wainaina and his band, who kept the large crowd wonderfully entertained.
And so it finished and we are all tired, but very happy to have celebrated the first ten years in style, both reflecting on past glories and looking forward to an even stronger future. 
Happy tenth birthday to the Aga Khan Academy, Mombasa.