CASA Gala victory pushes students forward into KSF Gala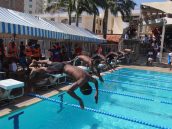 Swimmers diving into the pool at the 2015 CASA GalaAchieving the best results in AKA, Mombasa's history are this year's junior and senior swim teams that participated in the 10 years old and above age category of the Coast Amateur Swimming Association (CASA) championship held on 9-11 October.
The Academy emerged victorious, securing first place with an overall score of 941, while Oshwal Academy followed lead with 434 points.
Two of this year's participants representing the Academy, Tiana Vora and Kunaal Khagram, broke 7 previous records in 1500m Freestyle,100m Backstroke, 50m Backstroke, 200m Backstroke, 1500m Freestyle, 400m Freestyle, and 800m Freestyle.
The Academy has successfully qualified for the national level Kenya Swimming Federation (KSF) championship, taking place at Oshwal Academy on 23-25 October, where schools and clubs from both within Kenya and other countries are competing for the trophy.
We are very proud of the hard work and dedication that our swimmers have displayed and wish them good luck for the KSF championship this weekend!