Bilal Adamjee: The Pomona College International Scholarship at Pomona College
AKA Mombasa's Class of 2020 received prestigious scholarships worth over USD $6 million to attend reputable universities worldwide. The highly competitive, need and merit-based scholarships are awarded to outstanding students who have shown exceptional academic strength, leadership skills, and involvement in community service, co-curricular activities and student affairs. Over the next few days, we will highlight some of the recipients.
Bilal Adamjee, who joined the Aga Khan Academy Mombasa in 2012, received the Pomona College International Scholarship at Pomona College in California, USA to study Philosophy, Politics & Economics. The scholarship provides a financial aid package that covers over 80% of the total cost in tuition, books, boarding and health insurance annually.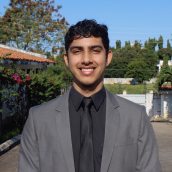 Bilal Adamjee."I am extremely humbled and couldn't be more grateful at receiving such a wonderful offer," Bilal said about receiving the scholarship.
Accrediting this honour to his hard work and enriching experience at AKA Mombasa, Bilal stated: "I demonstrated leadership and creativity in all the projects, enrichments and enterprises that I led in school."
Some of Bilal's accomplishments at the Academy included serving as the secretary-general to the Aga Khan Academy Mombasa Model United Nations enrichment and Academic Executive in the Student Representative Council (SRC). He also finished the Duke of Edinburgh Award Scheme after three years of hiking in the Aberdares, Ngong Hills and Mt. Kenya and participated in the first-ever TEDxYouth@AKAMombasa event. In 2018, he founded Funza - a community service initiative that aims to push for educational reform in public schools in Mombasa, Kenya by empowering students to express themselves confidently and articulately. What will perhaps stand out most, however, is when he was recognised as the male recipient of the Award of Excellence at the Class of 2020's first-ever virtual graduation ceremony in May.
"Receiving the Award of Excellence was a pinnacle that warmed me. It indicated to me that I am on the right path towards greater things, a path that requires a lot of hard work," Bilal expressed about the honour he was bestowed.
As he begins his new journey at Pomona College, Bilal is excited about meeting new people and getting immersed in a new culture. He said he will continue to carry on the valuable lessons AKA Mombasa taught him. "The Academy has taught me that I can dream boundlessly; that my great ambition can lead to fruition with persistence and confidence. I can be whoever I want to be."