Aryen Muravvej participates in CANA Swimming Championships
From 14 November to 17 November, four students from the Aga Khan Academy Mombasa participated in the Confédération Africaine de Natation (CANA) Zone III Swimming Championships in Khartoum, Sudan. Two students represented the Kenya National Team, while the other two represented the Uganda National Team with all four of the students winning numerous medals. Two profiles will be done showcasing the student's accomplishments and their experiences. Below, we learn more about year 8 student Aryen Muravvej and his participation in the competition.
Winning one individual gold, two silvers, one bronze and two relay golds, Aryen Muravvej proudly represented the Kenya National Team at the CANA Zone III Swimming Championships where he was one of the youngest members on the team.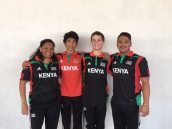 Aryen Muravvej (second from the left) with members of the Kenya National Team at CANA."I like swimming because it gives me an opportunity to travel abroad, make new friends and win medals in international events," Aryen said. "I love pushing myself to improve my times, to go faster than before, though this isn't always the case as I do experience disappointments sometimes."
Like year 7 student Ivan Hart, swimming has been a big part of Aryen's life.
"My dad used to be a competitive swimmer in his youth and he constantly motivates me in the sport," Aryen said. "I train 5 times a week but before an important swim meet, this can go up to six days a week."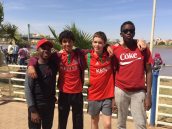 Aryen with his fellow classmates from AKA Mombasa at CANA in Sudan.Aryen said he has competed in competitions before, such as the CANA Zone IV, where he also represented the Kenya National Team, and which took place in Lilongwe, Malawi. However, Aryen said there were a lot of firsts for him during this competition.
"It was my first time swimming in a long course pool and it wasn't easy, but I overcame this challenge and continued to do well," Aryen said. "I also learned that I need to become comfortable with being uncomfortable; the water was cold and the competition was tough. I also gained tips from teammates and swimmers from other countries and that added to my wholesome experience in Sudan."
A big achievement Aryen said he had was the age difference between him and his competitors, and with his achievements, he hopes to do more.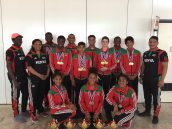 Aryen (second from the right) with his teammates representing the Kenya National Team."I felt proud of my achievements especially because I was swimming against 14 year olds and I'm still 13," Aryen said. "I will continue to push myself against my limits so I can continue to do better. I am taking it one step at a time and enjoying the whole experience."
For his future, Aryen said he will continue to strive for the best with swimming.
"I hope to continue improving my times and get new (personal bests), soaking in all the experiences the swimming career provides," Aryen said.
By Anusha Lalani