Anoush Alibhai Featured in Viral Music Video "Mayaya"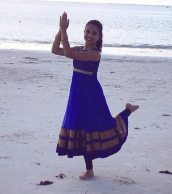 Anoush during the shooting of the music videoPopular Kenyan gospel artist Papa Dennis releases two music videos for his new song "Mayaya". One featuring the Sarakasi dancers and the other, featuring a group of young Indian women dancing a fusion of Bollywood and Kenyan moves. One of our very own students, Anoush Alibhai (Year 9), was one of the dancers in the second music video. 
Anoush shares her experience with us:
What was your favorite part of this experience?
My favourite part of this project was learning a new form of dance. I mainly do ballet and tap which is very different from Bollywood. I feel like this project built my skills and flexibility as a dancer. It also helped me build my confidence for performing and develop my stage presence. More than anything, I will never forget the friends I made through this project; girls from other schools also passionate about dance. 
What was the process like? Was it tough balancing it with school work and other commitments?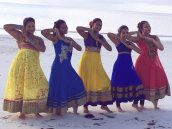 Anoush with the other dancersIt was a very fun and interesting process. It was challenging at first, because the type of dance I have learned so far is very different from the type of dance we performed in the music video. I only started learning Bollywood and hip hop this year, so it took me a longer time to learn the dance moves than the other girls. Additionally, it was quite tough balancing school with the music video practice because I had many clubs that finished late, and after school is the only time I can practice. However, I am glad I took this opportunity, because it is a once-in-a-lifetime experience. 
When did you first discover your love for dance?
I started ballet when I was 3, tap when I was 5, and I also did a bit of Indian dancing when I was in Year 1. When I was younger, my sisters and I would come up with dance choreographies and perform them to my parents. Dance has been something I have always carried with me throughout my childhood, but it is only now that I have realized that dance is not something I do for fun, but a talent I have developed which is slowly growing into a life-long passion.  
What was interesting to you about this music video?
When I heard the song for the first time, I found it really cool that the song has Kenyan lyrics with a sort of Indian melody. It was really interesting making the traditional Indian hand moves go to the beats of the song. 
Watch the music video here.