Anjiya Ali: The Global Citizenship Scholarship at the University of Alberta
AKA Mombasa's Class of 2020 received prestigious scholarships worth over USD $6 million to attend reputable universities worldwide. The highly competitive, need and merit-based scholarships are awarded to outstanding students who have shown exceptional academic strength, leadership skills, and involvement in community service, co-curricular activities and student affairs. Over the next few days, we will highlight some of the recipients.
Anjiya Ali, who joined the Aga Khan Academy Mombasa in 2012, has been awarded the Global Citizenship Scholarship at the University of Alberta to pursue a general degree in biological sciences in hopes of becoming a forensic scientist in the near future. The all-expense-paid scholarship covers tuition, accommodation, books, health insurance and includes a stipend. It is awarded to International Baccalaureate Diploma Programme (DP) students attending the Aga Khan Academies and the candidates must have demonstrated an exceptional leading contribution to school and community in Years 10, 11 and 12.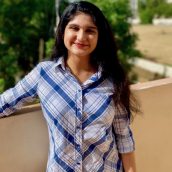 Anjiya Ali."This is such a great and outstanding honour, I was very surprised and I cried tears of joy when I found out I got the scholarship," Anjiya expressed about receiving the scholarship. "I was really overjoyed once the news sank in."
Anjiya accredits this prestigious honour to her exemplary academic efforts and the leadership opportunities she was provided during her time at AKA Mombasa where she served as Human Resource Manager for the Tuck Shop and as a Residential Captain in Tana House. For Anjiya, taking responsibility in these leadership roles helped her to acquire critical skills such as time management and organisation, which are pertinent in everyday life.
Although she found things challenging at times, Anjiya said she relied on her family and friends at the Academy for support to achieve everything she set her mind to.
As she starts her new journey at university, Anjiya said the Academy has taught her that there is no single path to success. "Everyone has their own time and their own strengths. Never compare your timeline to someone else's because they're not you," Anjiya said. "If you play to your own strengths then you're already successful in discovering them, all that is left is to nurture and excel in life using your strengths."