Anais Shalita: The Lester B. Pearson International Scholarship at the University of Toronto
AKA Mombasa's Class of 2020 received prestigious scholarships worth over USD $6 million to attend reputable universities worldwide. The highly competitive, need and merit-based scholarships are awarded to outstanding students who have shown exceptional academic strength, leadership skills, and involvement in community service, co-curricular activities and student affairs. Over the next few days, we will highlight some of the recipients.
Anais Shalita, who joined the Aga Khan Academy Mombasa in 2014, has been awarded the Lester B. Pearson International Scholarship Program at the University of Toronto to pursue a Bachelor of Arts in Philosophy. The full ride scholarship is awarded annually to international students nominated by their school, who have demonstrated exceptional academic achievement, creativity and leadership within their school community. It covers the student's tuition, text books, incidental fees and full residence support for four years.
Upon receiving news that she had received the scholarship, Anais said she felt humbled and honoured, but was equally in disbelief and overcome with emotions. "I refreshed my inbox a couple of times just to be sure. What ensued was a load of phone calls, noise and tears, all blurred in a profound feeling of both joy and shock."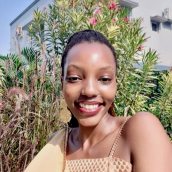 Anais Shalita.Anais attributes this opportunity to the holistic education offered at AKA Mombasa, which she said shaped her to be the person she is today. During her time at the Academy, her interests were deeply rooted in the arts and community service. As a member of the Academy's Voice for Change choral group, which she also led, Anais organised and participated in several fundraising concerts and events such as food drives to benefit the underprivileged. She also directed the Class of 2020 cohort play, 'Memphis' – a production that reflected the talent and dynamic of the cohort. In addition, she served as captain in Eagles house.
While in DP1, Anais received a scholarship to study Law at the Immerse Summer Educational Program at Cambridge University in 2019. The culmination of her hard work was when she was recognised as the female recipient of the Award of Excellence at the Class of 2020's first-ever virtual graduation ceremony which took place in May.
Commenting on how she felt upon receiving the honour, Anais said: "Beyond the overwhelming gratitude and honor, receiving the Award of Excellence made me recognise the significance of living with life, ambition, and desire; one that constantly propels you to go after your passions wholeheartedly, and contribute to the welfare of life around you. I am grateful for all the opportunities and experiences I was part of during my time at the Academy, and most certainly for the Class of 2020."
As she embarks on her new journey at the University of Toronto, Anais said she is going to seek her 'great perhaps'. "Even as I leave the Academy in a whirl of global unease due to the current pandemic, the most memorable lesson I have learnt is that one does not need to wait to seek the endless pursuit of dreams, aspirations and possibilities. We continue to live on a journey to discover where our dreams will take us," said Anais, who is conscious that she has to uplift the community from which she came.