Alumnus Aleem Mawji Featured in AKF USA's Humans of the World Series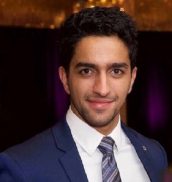 Aleem Mawji (AKA Mombasa, Class of 2012)As part of its #humansoftheworld series, the Aga Khan Foundation USA is thanking its supporters by showcasing "...stories of appreciation, self-reliance, and strength". One of the profiles featured recently on their website includes that of AKA Mombasa graduate, Aleem Mawji, from the Class of 2012.
Aleem describes how he came to the Academy from his hometown Dar es Salaam, Tanzania and the huge sense of responsibility and gratitude he feels towards towards the Academy for seeing the great leadership potential that he had and for providing him with the financial support he needed to embark on the Diploma Programme of the International Baccalaureate (IB) Curriculum. 
He remembers his two years at the Academy as being very rigorous, but also describes the immense sense of family and community, a big part of which came from being a member of the Residential Programme. Upon graduation, Aleem received the Academy's presitgious Medal of Honour for highest academic standing as well as the Award of Excellence, an all-round award for academics, sports, leadership and community-service. Furthermore, he was nominated for and received a scholarship to study the program of his choice at University of British Columbia in Vancouver, Canada.
Aleem started out studying Mechanical Engineering at UBC and later transitioned into Management Consulting which he says he finds extremely rewarding because of the inter-discipinary nature of the work as well as the fact that it is focused on creative problem-solving and results in postive change to the clients' projects. Lastly, while thanking his family immensely, Aleem also expresses his gratitude to the Academy especially for seeing his potential and instilling in him the confidence to harness his own potential as well as that of others around him to create change.