Alumni Blazes Trail With Her Own Fashion Enterprise
Lora speaks to us more about her up and coming fashion line, Afrohemia designs which fuses African and  Bohemian fashion. It has been incredibly heart-warming and inspiring to see her entrepreneurial spirit as well as the support she has gotten from her friends from the Academy, who form part of the Academy community in different ways. . 
What have you been up to after graduating in 2012?
Since graduating from the Diploma Programme, I took a gap year and joined USIU campus to study International Relations and Public Relations (PR). I graduated with my Bachelor's degree in 2017. I have had a string of internships and part time jobs since then. Through all these jobs, it slowly crept upon me that I was unsatisfied. I finally decided to focus full-time on my creativity this year.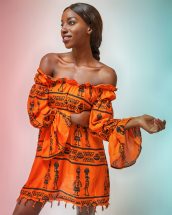 Mildred Okello (Class of 2013). Strathmore Law School graduate. 
Tell us more about your business. Where did the idea come from? Where are you hoping to take this in the next few years?
Afrohemia Designs is a clothing brand inspired by fusing African prints with the Bohemian/ hipster style. I had always been a creative individual, but was too afraid to pursue it any further. This year I turned 25 and decided to stop letting fear get in the way of pursuing my dreams. God willing, in the next few years, I would love to have stores across Kenya and ship worldwide. I would love to have an established men's wear, beachwear and modest wear lines.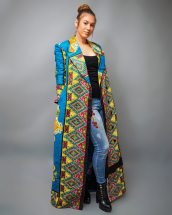 Sandra Nicoleta Gidoiu, freelance make-up artist (Academy student until year 7, USIU graduate). 
What was your favourite experience at the Academy? Favourite teacher? 
My favorite experience from the Academy would have to be the friends that I made. It allowed me to have a multicultural perspective and appreciation. My favorite teacher would have to be my History teacher Mr Bulemi Mulama. He was always a lovely human being; very knowledgeable and approachable. He made me love History and work harder to get the best grade in the class. Because of my love for History, I pursed International Relations.
Do you have any advice for young, upcoming creatives and entrepreneurs?
My advice to all millennials is to pursue your talents. Whatever passion you have, make it a reality. Create side hustles and see where it takes you. A mistake would be to settle for the 9-5 job that leaves you unsatisfied. Especially for women, we have to work twice as hard as men. Let's not settle. We can be the next Oprah Winfrey if we push hard. Just start it. Don't expect thigs to come easy. The mistake would be to not attempt at all.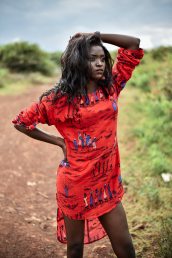 Michelle Chebet Tiren (Class of 2012). Law graduate (University of Kent and City, University of London). 
If you had all the resources at your disposal, what would you focus on to improve the lives of people in Kenya?
If I had all the resources, I would work towards creating venues to empower the youth in Kenya. There is a tremendous amount of talent amongst the millennials. However, the unemployment rate is at the highest in East Africa. I would aim to help youth harness their talents to create employment. We all need support to kick off.
To find out more about Afrohemia Designs and support Lora's work, follow her on Instagram: @afrohemiadesigns and like her Facebook page: @AfrohemiaDesigns.