Allan Mwandawiro will Advance to Mali with National 3v3 Team
Allan Mwandawiro, a DP1 student at the Aga Khan Academy Mombasa, was one of the four players selected to play for the Kenyan U18 3v3 team. The team will be progressing to Mali in October.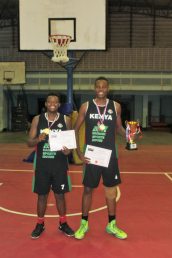 My experience representing the Kenyan U18 3v3 team was an honorable and humbling, to be presented this opportunity was no small feat.  The games took place on 21of June, all between three hours because the games were ten minutes long and were played on one-half of the basketball court. I had many thoughts before the games started and even doubted our abilities due to past experiences whereby opponents were bigger and more athletic. My nerves settled within the first two minutes of the first match. I then realized that all uncertainties were just in my mind and I realized that I should focus not only on my abilities but also trust the abilities of my teammates. As we kept winning, my confidence grew and that allowed me to creatively express myself on the court.  After winning all the teams during the group stages I had already envisioned the Kenyan team victorious since the games after that would just be replays; and indeed, at the end, we emerged African Zone V Champions of U18 3v3, a region covering 11 countries. We will now proceed to Mali in October 2018.