AKDN Virtual Internship Programme 2020
During the July break, the Aga Khan Academies and the Aga Khan Development Network partner up to provide internship opportunities for students in the Diploma Programme. Kauthar Mohamed, the internship coordinator tells us more about the programme below.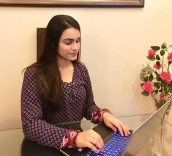 Saliha Mukhi interned at Aga Khan Foundation Geneva The AKDN Internship Programme provides students in the first year of the Diploma Programme (DP1) meaningful and sustainable career-oriented opportunities in professional fields over their July and August break. These experiences seek to build upon the Academies curriculum while also fostering students' individual growth in the workplace. The Internship programme continues to enact on His Highness's vision that looks to education of the highest quality to prepare young people to lead and bring positive change in the world they inhabit. Throughout the years, the programme has been gaining momentum with an increase in the number of students and AKDN agencies participating.
Due to COVID-19,  the DP1 students were unable to take part in a face to face internship this year.  This challenge, however, led us to create a different learning opportunity for them in the form of a Virtual Internship Programme.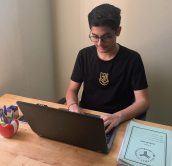 Ashhal Vellani interned at AKDN Geneva
Whilst fieldwork was not possible virtually, many of the tasks that students took part in were completed remotely: these included desk research; collecting data and writing reports; website content creation; social media content creation and communications projects. The virtual environment enabled us to place students with agencies that they would not normally be able to intern with due to location. This allowed for an even better alignment of placements with students' interests. In addition to the Kenyan AKDN agencies, some of the global institutions the students interned at include Madrassa programme Zanzibar, Aga Khan Foundation Canada and Geneva, Aga Khan Development Network Paris and Geneva and Aga Khan Academies London.
The students had an enriching learning experience and the agencies were amazed at the level of competency showcased by our students. It was an exciting opportunity for both the Academy and the agencies and we are all excited to collaborate again together next year whether virtually or in person. Over the next few weeks, we will share the students' stories and experiences.