AKA Mombasa Students Walk for Freedom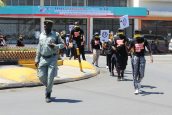 Students march the streets of MombasaOn Saturday, October 14, the Walk for Freedom took place in over 500 cities in over 50 countries globally. Hundreds of people, of different ages and backgrounds were there to support by walking 5 kilometers in the Mombasa heat, wearing all black, with their mouths covered with a yellow bandana that symbolically represents the voiceless people that are trapped in bondage around the world.
The route started at Treasury Square onto Nkrumah Road, continued to Moi Avenue, passed the old railway station and onto Haile Selaisse Avenue, coming full circle back to Treasury Square via Nkrumah Road.
The goal of the Walk for Freedom was to create awareness, educate the community and convince the Kenyan authorities to take a firmer stance against trafficking in persons. The walk is organized by A21, "which is a non-profit, non-governmental organization that works to fight human trafficking, including sexual exploitation & trafficking, forced slave labor, bonded labor, involuntary domestic servitude, and child soldiery."
The International Organization for Migration estimates that 10,000 people are trafficked into the Kenyan Coast every year. Furthermore, young girls and boys are often used in the child sex industry which has grown in notoriety along the Kenyan coastline.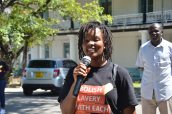 Wacera Muriuki smiles as she explains logisitcs of the walkAt the walk, there was a large number of students from the Aga Khan Academy Mombasa – members of The Generation of Freedom (TGOF), which is a local chapter of A21. The team from AKA Mombasa strives to make a change through action and education. This formidable team was brought together a passionate and caring young woman called Wacera Muriuki (DP2) who went out of her way to raise awareness within her school about the pertinent issue of human trafficking. Months in advance, Wacera was planning an awareness campaign within the school to get her peers involved in the fight against human trafficking. She spoke at staff meetings, whole school assembilies and united the school to aid her efforts.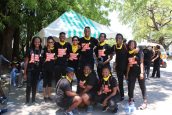 The TGOF AKA Mombasa teamOne of the team members of TGOF AKA Mombasa is Soniya Marghani (year 10) that was both creative and resilient when passing out some of the 4,000 informational fliers to curious bystanders. She weaved through traffic, walked into shops, garages and office spaces to educate the local community about the issue of human trafficking. At the end of the walk she reflected by saying, "It was amazing. I feel satisfied because I am doing something for people around the world. We distributed over 4,000 fliers – that is 4,000 more people who know about this issue. It is very encouraging because people were so supportive of the initiative. Many people gave us their blessings."
Click here for more pictures.