AKA Mombasa students take part in inter-school Senior Athletics championships
Senior School students from AKA Mombasa participated in the inter-school senior athletics championships held at Shree Swaminarayan Academy on Saturday 7 March 2020.
The annual event saw more than 10 schools within the Mombasa region participate in different track and field events such as long jump, high jump, javelin, shot put, discus and mixed relays.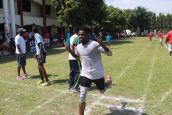 AKA Mombasa student David Solomon (DP2) wins race.The competition was divided into three age categories: under 13, under 15 and under 19. In the under 13 and under 15 age groups, AKA Mombasa girls came in 1st while the boys came in 2nd. Both the boys and girls came in 1st in the under 19 age category.
In the different event categories, the girls placed 1st with 232 points while the boys positioned 2nd with 219 points in track events. In the field events category, the girls scored 145 points to come in 1st while the boys came in 2nd with 148 points. In the mixed relays, the team came in 1st with 132 points.
To sum it up, AKA Mombasa Senior School students did the Academy proud by putting up a wonderful challenge and coming in 2nd in the overall score.