AKA Mombasa students attend Yale Young Global Scholars programme
In June 2019, Lovely Mughalu (DP2), Josette Kiarie (DP1), and Aimaan Sayani (DP1), students from the Aga Khan Academy Mombasa, attended a two-week Yale Young Global Scholars (YYGS) programme at Yale University in New Haven, Connecticut. Here's what the students had to say about their incredible experience.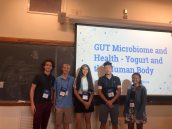 Lovely Mughalu, far right, with her peers at Yale University.Tell us something about the programme you attended at Yale? 
Lovely: "At Yale, I attended six lectures as part of the Biological and Biomedical Sciences course, which included discussions on topics such as protacs, rogue proteins, emerging diseases and climate change, and engineering the immune system to fight cancer. My favourite lecture was called 'Listening is not Hearing' where we were explained how sounds (music) can be used to detect abnormalities in a person's body."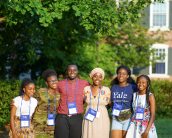 Josette Kiarie, third from right, with her peers for YYGS.Josette: "Like Lovely and 228 other students, I attended the Biological and Biomedical Sciences programme at Yale. Although I harbored a preconceived notion about the programme being academically competitive, to my pleasant surprise the learning environment was very easy-going and mentally stimulating. My favourite seminar was called 'Your Love is my Drug', where we discussed how being in love produces the same hormones in the body that being addicted to drugs does."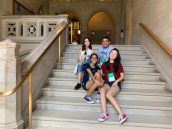 Aimaan Sayani, bottom row, right, with her peers at Yale University.Aimaan: "I attended the Sustainable Development and Social Entrepreneurship (SDSE) programme at Yale. During the two weeks I was there, I attended six lectures and eight seminars. There was one lecture that really stood out for me. It was called 'Creating Change in an Ever-changing World,' wherein the lecturer discussed his social entrepreneurship business model with the students. I was very inspired by this lecture as he told us that although his business was running well, he resigned from it because the grounding values of the business had shifted and declined over time." 
Apart from the academic aspect, how did the YYGS impact your overall learning experience?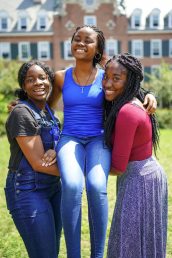 Lovely, middle, with her peers at YYGS.Lovely: "Through YYGS, I felt exposed to college life for the first time in my life, and understood the importance of diversity. Despite numerous cultural differences, I found a way to connect with my peers and work as a team. This was especially challenging as my team members and I did not think alike. Not only did the programme push my limits to deliver the best, it also taught me how to work collaboratively with other students."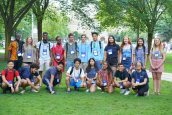 Josette, top row, fourth from left, with her programme's cohort for YYGS.Josette: "During my time at Yale, I made so many new friends; they felt like a new-found family. Oddly enough, I discovered that I had a lot in common with other students attending the conference, including my shy behaviour. The people definitely added to the experience in terms of exposing me to new ideas, and making activities and tasks an enjoyable learning experience."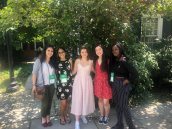 Aimaan, second from left, with her peers for YYGS.Aimaan: "The experience as a whole helped me grow a lot as an individual. I had the amazing opportunity to meet so many new people and step out of my comfort zone. For the first time I felt independent, free and empowered. The best thing about YYGS was that it offered me a first-hand pre-college experience."
Along with Lovely, Josette and Aimaan, other students from the Academy attended the YYGS programme where they were able to take part in a specific programme of their interest, while also networking with students from different backgrounds. We are immensley proud of our students for taking this journey and cannot wait for more AKA Mombasa students to get involved in this programme!