AKA Mombasa student interns at the Aga Khan Foundation
In July 2019, Bilal Adamjee (DP2), student from the Aga Khan Academy Mombasa, interned at the Aga Khan Foundation in Kenya. 
Bilal Adamjee, a second year Diploma Programme student from the Aga Khan Academy Mombasa interned at the Aga Khan Foundation in Kenya from 1 July 2019 to 1 August 2019. During the internship, Bilal worked on the Value-Based Education (VBE) project that utilizes Board of Managements (BoMs) of government schools, Civil Society Organisations (CSOs), teachers and parents to cultivate values in the learning process for children in Kenya.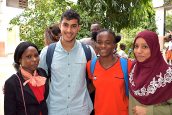 Bilal Adamjee with VBE Facilitators Bilal's key involvement in fostering VBE in the coast region was his participation in the module two training programme called 'My Relationship with Others.' 
"As part of the module, the facilitators dived deep into personal qualities and competencies, simultaneously discussing the importance of respect for diversity, dealing and overcoming assumptions," explained Bilal. 
As an intern, Bilal also had the opportunity to observe the teaching, engagement and pupil environment of classrooms in two schools located in the county of Kwale.
According to Adamjee, "I felt this was a major facet of the VBE project as a mechanism of empathising with the teaching environment in the coast region and identifying areas of concern that need to be addressed."
The internship greatly aided Bilal's intellectual, emotional and personal growth.  He describes his five week internship as a "joyful, fun-filled time."
"I am truly grateful to have had wonderful mentors, whose kindness, care and wisdom I dearly loved!" said a beaming Bilal.