AKA Mombasa Student Builds Social Entrepreneurship Initiative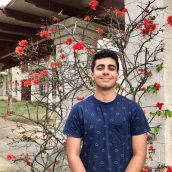 Alqaim Lalani, a DP1 student at AKA MombasaAlqaim Lalani, a DP1 student at the Academy, has a strong commitment to help others and engage in service-oriented pursuits.
Last year, when Alqaim was an MYP student at the International School of Tanganyika, he was assigned with the task of coming up with a topic for his personal project. One issue that stood out to him was how small-scale farmers could not access machinery to refine their crops. For his project, Alqaim was successfully able to microfinance agro machinery by devising his own business plan, which also helped him to realize his passion for social entrepreneurship.
Alqaim believes social entrepreneurship gives students a chance to acquire real world exposure to some of society's most pressing issues. He continued by saying, "At the Aga Khan Academy, students are fortunate enough to have access to a great resources; we must use this as a platform to help others."
Over this past summer, Alqaim worked on expanding a service project that he has been leading since year 9 known as the Cancer Initiative. He worked directly with an NGO, called Tumaini La Maisha, that helps subsidize and care for underprivileged children suffering from cancer.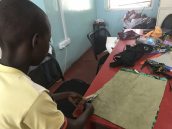 Child cutting fabric for handbagsWhile visiting Muhimbili Hospital in Dar es Salaam, Alqaim noticed that the children were particularly skilled in making their own crafts such as bags, pouches and other accessories. It occurred to Alqaim that he could outsource materials for these children to make their crafts and then sell the final products in the market. All proceeds would go back to the families of the children so that they could obtain enough money to make medical treatment affordable. In addition, the crafts were made from environmentally friendly materials such as kitenge, an unbleached cotton from East Africa, and are sourced from smaller vendors in the community.
Through his social enterprise, Alqaim was able to finance the chemotherapy treatment for two young children. Although all of previous bags have been sold out, a new stock is currently being manufactured and will be sold during the Zawadi Bazaar later this year.
In his latest pursuit, Alqaim aims to partner with major retailers around Mombasa to sell low-cost reusable grocery bags that can effectively replace the banned polyethylene plastic bags.