AKA Mombasa student attends summer programme at UC Berkeley
In June 2019, Amilio Merali (DP2), student from the Aga Khan Academy Mombasa, attended a one month entreprenurial summer programme called 'LeanGap' at the UC Berkeley in California. 
Amilio Merali, a second year Diploma Programme student at the Aga Khan Academy Mombasa attended a one month entrepreneurial summer programme called 'LeanGap' at the UC Berkeley in California from 21 June to 22 July 2019. The programme aims to encourage students to come together and start companies that would address certain socio-economic issues.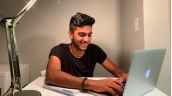 Amelio Merali at University of Berkeley At the start of the programme, Amilio and his team were presented with a problem task. His team were asked to come up with an innovative solution to resolve the issue of expensive tutoring in the United States. Amilio's team created an online tutoring platform called 'TeenTeach' that connects high school students looking to gain service hours to other high school or middle school students wanting to improve their grades.
Amilio was primarily involved in designing the website for his team's company. Additionally, he also helped in marketing the company to gain traction. He used a three-fold technique to achieve this goal.
Amilio explained, "At first, I used social media to advertise the company, after which I approached organisations who work with students. The last step involved me personally engaging with students to discuss the benefits of using the company website to either teach or be taught by other students," he added.
Currently, the website has about 100 users. Amilio and his team continue to work on the website and are in the process of pitching this idea to potential investors for future growth and expansion.