AKA Mombasa shines at Golden Climate International Project Olympiad 2016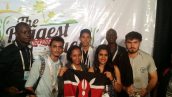 The sixth edition of the Golden Climate International Environment Project Olympiad 2016, held in Nairobi this week, saw all six of AKA Mombasa's student participants shine with their innovative projects and bring home one gold, two silver, and three bronze medals.
The competition encourages students from all over the world, with 600 participants from 27 countries this year, to devise innovative solutions to global climate and environmental issues through science, engineering, and management. The student projects fall under the categories of Energy, Engineering, Environment, Agriculture, and Environmental Design.
Godfrey Kokeyo, a teacher in the Science Department appreciated the students and stated that, "Outstanding in the presentations was their command of language, organization in terms of presentation and articulation of scientific facts." In addition to medals, the students also received trophies. The proud winners of the AKA Mombasa team comprise of Nabeel Chudasama (Gold), Samara Nasorr (Silver), Inaara Savani (Silver), Naail Lalani (Bronze), Alisher Kukanbekov (Bronze), and Juneid Bawazir (Bronze).
This year marked the Academy's third run in the contest, and our students have maintained their winning streak consistently. Samara Nassor's project titled "Using Napier grass to extract Biofuel for tuk tuks in Mombasa to reduce pollution caused by the currently used fuel" has been selected for exhibition in Turkey in April 2017.
We congratulate our student scientists on the wonderful projects and also applaud the teachers in the Science Department, parents, and the management that have played an instrumental role in helping the students achieve this success.