AKA Mombasa retains trophy at Mvita Sub-county basketball games
AKA Mombasa retains the trophy at the Mvita Sub-county basketball games held on 27 and 28 February 2020. The event, which was hosted at the AKA Mombasa basketball courts, saw more than 400 students from schools within Mvita Sub-county attend the event.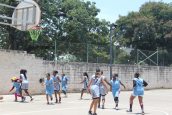 AKA Mombasa girls' team (in grey) playing against Mbaraki Girls (in blue).Day 1 of the event saw the AKA Mombasa's boys' and girls' team outshine their opponents. The girls' team won 77-01 against Mbaraki Girls, 89-00 against Star of the Sea and 73-03 against Aga Khan High. The boys' team also did exceptionally well winning 49-08 against Aga Khan High, 64-03 against Khamis High, 96-15 against Tudor Day and 69-09 against Allidina Visram for the semifinals.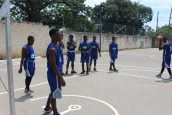 AKA Mombasa boys' team warming up before game.For the finals, which was day 2 of the event, AKA Mombasa retained the trophies for both the boys' and girls' team. The girls won 35-08 against Mama Ngina Girls and the boys beat Mombasa Baptist 89-49 amidst enthusiastic spectators.
"Our victories are a true reflection of the passion and dedication our exceptional students have for the sport," said basketball coach Jimnah Kimani. "Our students have shown complete dominance at the sub-county games and we should expect to continue with the fine results at the next level coming up next week. Among many of the things we teach our students through basketball is to make them understand there is a lot of learning points between sports and life, and we feel by them winning basketball games helps them to also prepare adequately for the game of life." 
AKA Mombasa now proceeds to the County-level games, which will be held at the Shimo La Tewa School from 4 to 6 March 2020.