AKA Mombasa organises Personal Project Exhibition 2020
Plastic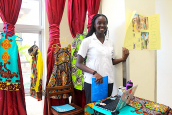 Hilda Maichibu (Year 10) presenting her albino clothing line bricks, solar-charged matatu models, organic soaps and many other innovative projects were seen at the 5th annual Personal Project Exhibition held at the Aga Khan Academy Mombasa on 7 February 2020 for Year 10 students. Through this exhibition, AKA Mombasa students were not only able to showcase their hard work, but demonstrate themselves as actual change-makers of society.
As part of the Aga Khan Academies' International Baccalaureate (IB) curriculum, all Year 10 students are required to undertake a personal project in order to receive their IB Middle Years Programme certificate to advance to the Diploma Programme.
"The personal project encourages every student to reflect on their learning and the outcomes of their work," said personal project coordinator George Gachoya. "These skills will enable the students to succeed in their future studies, the workplace and the community."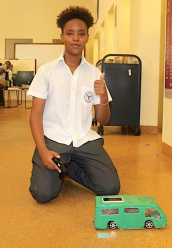 Mahamed Abdi (Year 10) presenting a hybrid model of electric and solar powered Matatu The personal project journey for the 76 Year 10 students began in February 2019. The students, then in Year 9, were tasked with thinking of ideas for their project with a community-centred mindset. Each project must reflect one of the five global contexts, or themes, set out by IB – identities and relationships; orientation in space and time; personal and cultural expression; scientific and technical innovation; globalisation and sustainability; and fairness and development. Within the year they are given to work on their projects, the students collaborate with their supervisors from the Academy and their community partner to create their final project. At this year's exhibition, a wide variety of topics were explored ranging from the sustainable usage of natural resources, strategies to combat climate change and empowering communities in different ways.
One such initiative was led by Zia Amershi who is organising a sale exhibition of  paintings that she produced in collaboration with the Salvation Army Mombasa Children's Home. She will use the proceeds from her exhibition to buy sanitary pads for girls living in Mombasa Children's Home.
"The exhibition will be held sometime at the end of February, following which I will purchase reusable sanitary pads from Affordable and Accessible Sanitation for Women (AASW)," said Zia. "Period poverty is a big issue and I want to do my bit to reduce it." 
AASW, founded by AKA Mombasa Diploma Programme 2 student Ziyaan Virji, began as a personal project and soon transformed to an initiative being led in more than three countries.
The intiative is not only internationally recognised, with Ziyaan being the recipient of the prestigious Princess Diana Award, but is seen as an example of youth advocacy for the betterment of society.
"The final milestone of the personal project goes beyond the Personal Project Exhibition to include the impact these projects have on the local community and the society at large," said George.