AKA Mombasa marks International Women's Day
On Monday, 9 March 2020 AKA Mombasa joined the rest of the world in marking International Women's Day which is officially celebrated on 8 March annually.
International Women's day celebrates the social, economic, cultural and political achievements of women. This year's theme #EachforEqual marks a call to action for gender parity.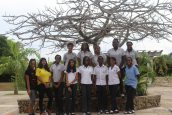 AKA Mombasa's Gender, Media and Culture enrichment.The day began with activities at the Senior School Monday morning assembly where students from the Senior School Student Representative Council (SRC) and Gender, Media and Culture (GMC) enrichment, formed by Academy Fellow Anusha Lalani, enlightened the rest of the school on the history of International Women's Day, its role and importance in the promotion and advancement of women's rights around the globe in social, political and economic spheres. One of the highlights at the assembly was the mention of Head of Academy Alison Hampshire as being the first-ever female Head of Academy at the Academy.
In addition, GMC decorated the school's gazebos with purple and white ribbons, which are the colours of International Women's Day, while the SRC also sold purple cupcakes in celebration of the day.
The theme for International Women's Day 2020 was drawn from a notion of 'Collective Individualism', which suggests that we're all parts of a whole. Therefore, our individual actions, conversations, behaviours and mindsets can have an impact on our larger society. 
Collectively, we can each help to create a gender equal world. How will you help promote equality?