AKA Mombasa hosts the first inter-school swimming gala of the year!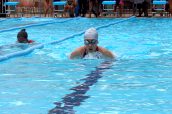 Students competing in 200m breastroke raceOn 18 January, Aga Khan Academy Mombasa hosted an inter-school swimming gala for Senior School students. Over the course of the day, students from several academies across Mombasa including Shree Swaminarayan Academy and Light Academy Malindi competed against AKA Mombasa in over 44 different categories. For both boys and girls, categories ranged from 50 to 200 metre breastroke, backstroke and freestyle races. 
Amongst girls, 13 year old Maria Bianchi from Shree Swaminarayan Academy stood first with 160 points followed by Zianna Alidina (Year 8) from AKA Mombasa who scored 107 points. In the boys category, Salman Noormohamed (Year 6) from AKA Mombasa stood first with a total of 115 points.
AKA Mombasa bagged the overall first position in the girls category with 989 points. Shree Swaminarayan Academy secured the first position in the boys category with 899 points, followed by AKA Mombasa who scored 599 points. In the combined team scores category for boys and girls, Shree Swanirayan Academy stood first with 1,747 points followed by AKA Mombasa who bagged the first runner's up trophy with 1,588 points.