AKA Mombasa boys' basketball team compete in national games
From 9 to 13 April, AKA Mombasa's boys' basketball team participated in the Kenya Secondary Schools Sports Association (KSSSA) Term One games at Shimo La Tewa Secondary School and came in 5th place.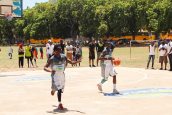 The boys competed against three other schools from across the country.The boys' team played three games, in which they won one and lost the other two. Laiser Hill Academy, the Academy's main opponent, won the tournament.
The games consisted of 1,600 students from across the country, and for the fourth year in a row, the Academy's boys' basketball team served as the youngest team in the tournament, with the maximum age limit of 19 years of age.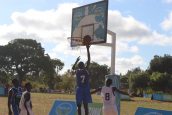 The Academy's boys' team has served as the youngest team in the national games for four consecutive years."Nationals are always fun," said DP2 student David Otieno, the captain of the boys' team. "I get along with all of my teammates and enjoy competing with the very basketball teams in the country. The school team is in very good hands and we have a good programme, with promising young players who will be able to fill the gaps left by the departing DP2s. With continued support and encouragement, I am certain that in the coming years, the Academy will have a national championship team."
Jimnah Kimani, the boys' head coach, said he is proud of the boys' team and is hopeful for the Academy's future in boys' basketball.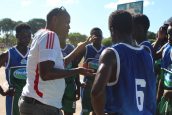 Jimanh Kimani, the head coach, addressing the boys' team."We have five boys who will be graduating this year, and I would like to thank the parents for supporting them through their high school basketball journey while at the Academy," Jimnah said. "As we celebrate our successful season, we would also like to thank all parents for believing in the programme. Focus now will shift in preparation for next year's national basketball games, while will be held in the Lake region, formerly known as Nyanza province."