AKA Mombasa's student wins laurels at national chess tournaments
Last month Rahul Doshi, a DP1 student at the Aga Khan Academy Mombasa participated and won at two national level chess tournaments held around Kenya.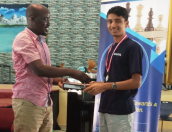 Rahul Doshi (Year 11)Rahul Doshi, an DP1 student is AKA Mombasa's very own chess prodigy. Over the December break he won accolades at two national level chess tournaments. The East African Junior Open Chess Tournament was held from 7 to 9 December 2019 at Oshwal Academy, Mombasa where Rahul beat 150 students in the Under 18 category to secure the first position.
Subsequently Rahul won the first runner up title at the Kenya National Open Chess Tournament held from 12 to 13 December 2019 in Nairobi. In the 14-18 Junior category, Rahul successfully competed against 14 other illustrious chess players from around the country.
"I am extremely happy about my success and hope to continue honing my skills to perform even better," said Doshi.