AKA Hyderabad students experience Mombasa
From dancing all day to exploring Mombasa's cosmopolitan culture, the AKA Hyderabad students have explored numerous things within their first four weeks here. Here, three students from AKA Hyderabad reflect on what they have done and how their experiences have been.
Garba night
"It had just been a week since we'd gotten here to Mombasa. I was terribly missing the AKA Hyderabad and home too, but then came the day of garba night. My face was beaming when I first heard of it; I had the steps planned in my mind right away. My initial thought was that it would be an event where I would mostly see the Indians participating, but I was wrong.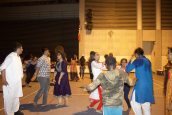 Students dancing at garba night.The crowd was diverse that night! Students came dressed in Indian clothing, there were Gujarati songs playing and I felt like I was back home. We were dancing in big huddles and I would say I danced till I dropped, which was at the end of the night. It's been about four weeks since garba night took place and I'm still really grateful for it because not only did I get to express myself through dancing, but I made many new relations and also improved the ones I had then recently made.
Something I would take way from this experience would be to always indulge myself with everyone around me and with what's going on because that's what creates some of the best best memories. I still have the tune of "Dholi Taro Dhol," a Hindi song, playing somewhere in the back of my head." – Mahek Charania
Diwali
"Diwali was a bit of a downcast for all of us. We were all missing our homes and trying to call our friends in Hyderabad. The one thing I missed a lot about celebrating Diwali in Hyderabad was wishing all the teachers and dorm parent giving us sweets. Despite all of this, I enjoyed how our caring teachers in Mombasa gave us sweets and how they made us narrate the story behind Diwali.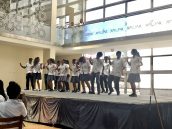 AKA Hyderabad students dancing with AKA Mombasa students on stage during lunch for Diwali celebrations.During this celebration I learnt that when you're in a new environment where your culture isn't the same, you should take it as an opportunity to stand out from the crowd, embrace it and show everyone what your culture really is. With the teachers and students here in Mombasa helping us not feel homesick during Diwali and the fact that people were actually interested in learning about Diwali made me realise how I was in a community and not alone. There will always people there for you, by you and with you." – Inara Dhanani
Watamu
"The first day at Watamu we visited the beach! It was really fun and we enjoyed it a lot since this was the first time at a beach for many of us. Most of us are from parts of India that are landlocked and far away from the ocean. Being from Hyderabad, we don't have access to the Indian Ocean or anything natural - everything is manmade. So it was a really good experience for all of us and I think it was one of the most memorable memories of the trip.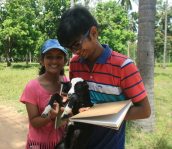 AKA Hyderabad students in Watamu.During the trip to Watamu, I learnt a lot of new things. I knew a little bit about coastal Kenyan culture, but this trip changed my way of looking at things. I realised not everyone in the coastal regions of Kenya are dependent on fishing and natural resources from the ocean. They had different ways of living than what I knew. Each person had a different source of income; some used natural resources to make handmade crafts and sold them. I thought it was just so fascinating. I also met this family more fortunate than the rest of the village whose income source was from their family members working as taxi drivers, teachers and managers.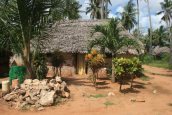 One of the homes AKA Hyderabad students visited in Watamu.With that, I left all the stereotypes I had and started to see coastal Kenyan culture in a different way. It is just interesting how different people have various ways of living and how their way of life affects the opinions of outsiders such as me." – Ayman Daredia