Aga Khan Music Initiative in Mombasa
On Wednesday, 7 March, the Aga Khan Academy Mombasa was proud to host musicians from the Aga Khan Music Initiative (AKMI) who took the school community and members of the Mombasa Ismaili Jamat on a musical journey to Central Asia. It was a sensational experience in which all who were a part of it, both musician and audience, young and old, felt the surge of energy of connection that came from the music.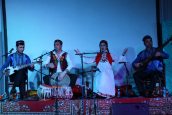 The Badakhshan Ensemble from Tajikistan The Aga Khan Music Initiative, which is part of the Aga Khan Trust for Culture (AKTC), is an interrogational music and arts education programme which helps preserve Central Asia's endangered musical heritage by ensuring it's transmission to a new generation of artists and audiences. (For more information about AKMI, click here.)
AKMI's tour in Kenya, celebrating His Highness the Aga Khan's Diamond Jubilee, kicked off in Mombasa. It featured the Badakhshan Ensemble from Tajikistan, led by the incredible singer and director, Sohiba Davlatshaeva, comprising of sitar player Mukhtor Muborakqadomov, maddoh singer Aqnazar Alovatov and brilliant rubab player Khushbakht Niyozov. Their music is rooted in local traditions of Pamiri devotional music. Also featured was the Afghan Rubab Duet comprised of master rubab player, Homayoun Sakhi and the charismatic tabla player, Salar Nader. Their performance is devoted to the Kabuli style of Indian raga performance.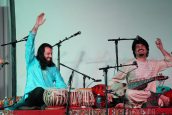 The Afghan Rubab-Tabla DuetThe Academy was treated to workshops on music and culture in the morning, with a showcase performance by the musicians in the evening, complemented of course by our very own Voices for Change choir who graced the event with their incredible talent.
Salar and Homayoun had small, intimate sessions with music students from year 9, year 8 and year 5. They educated them about their traditional musical instruments and gave lots of useful advice to the young musicians about practice, consistency and care for their instruments. The students were also given a taste of their music, even infusing different cultural elements like flamenco into the music. Salar told the students that even though many people around the world haven't been exposed to the tabla or the rubab before, two things that are common to every culture and transcend all barriers are rhythm and melody. A true testament to this was the concert at night where people were drumming on their knees, seemingly out of conscious control, as Salar and Homayuon connected on stage through the 'questions' and 'answers' that were emerging through their music.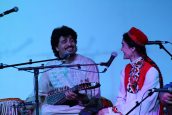 A musical meeting of Afghanistan and TajikistanThe year 5 students, led by their teachers, especially Ms Leah, learnt to play and sing along to a raga. Furthermore, they performed a local song for Salar and Homayoun after giving an introduction into some different cultures and communities around Kenya. Their talent and enthusiasm clearly impressed the musicians. According to Homayoun, he loved learning from and sharing with the students, especially since they are always growing as musicians and inspiration can come from anywhere. Additionally, he pointed out that the questions that come from young children are usually from such a pure place that it's very refreshing.
On the other hand, the Tajik students in our student body had a session with the Badakhshan Ensemble where they learnt more about Tajik traditional music and the importance of preserving their own culture and identity, no matter where they go in the world. This is of special significance to our students who spend many years away from their home community, going home only once a year and thus, especially susceptible to losing parts of their cultural identity, despite and paradoxically because of living in a such a diverse, multicultural environment.
In conclusion, the Academy would like to thank the musicians, AKDN and their partners in Kenya, AKTC, AKMI and the Ismaili Council for Kenya for enabling us to have such an immersive cultural experience. Special thanks go out to the Academy team and the Jamati volunteers who worked together with the Council to put together this event.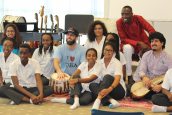 Homayoun and Salar with some of the Academy's music students and Mr. Philip  
What was your experience of the Aga Khan Music Initiative event at the Academy?
Nekhbakht Alibekova (DP2)
"The Aga Khan Academy is a very multicultural and pluralistic platform for people of various backgrounds to learn about and experience other cultures. For the past five years of living in Kenya and studying at the Academy, I have tried my best to showcase part of my identity as a Tajik. However, Pamiri culture is very rich and deep, both spiritually and symbolically. Hence, I may have only touched the tip of the iceberg. The Aga Khan Music Initiative gave me a chance to feel overwhelmingly euphoric, knowing that Badakhshani traditional songs, voices and spirit filled the halls of the school. I walked with my head up, pride and joy uplifting my soul and body. Although I had heard many of the pieces before, I have never felt so touched and grateful for the opportunity to feel a unique sense of 'home away from home'.
Apart from working with the artists as an MC on the second night of their performance (the one for the Academy and Jamati communities), I also attended a workshop with the rest of the Tajik students, led by the Badakshan Ensemble. They taught us about many aspects of Badakhshani music and dance, some of which were quite new even to me. It was an open session where we practiced the traditional Pamiri dance, discussed about the clothing and especially the toqi, played on the traditional drum known as daf and the musicians also played us some songs which weren't part of the concert.
When we asked the Badakshan Ensemble about "Why did you choose the path of traditional folk music?" They answered with, "If we don't care about our culture, who will? If we don't conserve the value and depth of our traditions, who will? If we don't speak in our language (Shugni), who will? If we don't perform our cultural practices, who will?"
These words, to me, highlighted one of the main aims of His Highness for the students of the Academy, which has been instilled into me by my experience here – it reminded me of the importance of never forgetting my cultural roots and making a positive change in my community."
Hezekiah Owuor (DP2)
"The event was culturally enriching and I gained insight into a different musical style. It took me out of my comfort zone and allowed me to experience something new."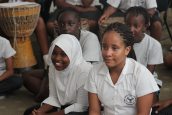 Ayaan Allarakhia (year 6)
"The program made me feel relaxed and happy. I wanted to come [to the concert] because I am interested in music and want to learn more about other instruments and how they are played around the world. I love the way the musicians were so confident…using different kinds of instruments and other types of songs in languages [most of us] don't understand. [However,] we were feeling the impact of the music."
Wacera Muriuki (DP2)
"I loved it because it showed me how different we are. That difference is beautiful."
Bhaghirathy Jhingran – (Head of Department, Individuals and Societies)
"A breathtaking performance by the AKMI musicians which lifted us all, in one breath to heaven! It was rather evident that we were in awe and understood that music has no language and knows no boundaries. A beautiful sense of cultural belonging came to the fore as we felt pride in our cultural heritage and were able to find our individual identity in a collective tradition, which brings our own community together and helps in bringing together a fragile and fractured world with its healing touch."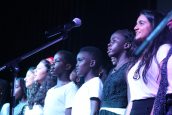 The school choir, Voices for Change, graced the stage as an opening act
Francis Kariuki – (Principal, Senior School)
"The only other enabler besides love – that can transcend the boundaries of language, culture, religion and country – is music. What we have experienced just now, is an overwhelming evidence of that claim."
A note from the musicians to the school community:
Sohiba Davlatshaeva
"For the artists, both Tajik and Afghan, the sound team's professional and humane attitude made the evening very special, with professional support and thankful, thinking and committed audience, that we will not forget. This is the highlight of our stay in Kenya."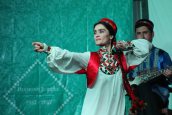 Sohiba left the audience with much excitement as she danced to one of the Tajik traditional songs
Homayoun Sakhi
"It was a great joy and pleasure to spend time with the Aga Khan Academy in Mombasa! I have never met a more talented group of students and after getting to know them, it gave hope to know that such an amazing group of individuals will soon be leading the way for future generations on the path of music and creativity. I want to commend the teachers of the Academy as well. Without their guidance and dedication, none of this would be possible. Their students are a reflection of their hard work. I am honoured and extremely happy to have been able to spend some time with you all. I hope someday our paths will cross again in the future and that I may have the pleasure to perform with you all again. With lots of love and admiration, Homayoun Sakhi."
By Aleesha Suleman