Aga Khan Academy Mombasa student places top 10 in NACADA art and essay competition
Muborak Davlatshoeva, a Year 8 student at the Aga Khan Academy Mombasa placed Top 10 in the recently concluded 'This is My Story Art & Essay Competition' by the National Authority for the Campaign Against Alcohol and Drug Abuse (NACADA).
The competition required students to submit artwork and essays reflective of their experiences during the COVID-19 pandemic. It encouraged them to focus on their emotions, learning experiences and relationships with family and friends during this period. The competition was targeted at primary and secondary school students in both private and public institutions.
Muborak emerged 7th in the upper primary Art category winning a cash prize of KES 2,000.
Hesborne Mosoti, the Senior School Art teacher who guided Muborak throughout the process described her as a dedicated student who is extremely passionate about art.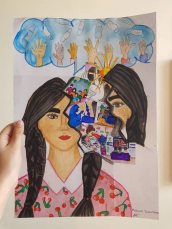 Muborak Davlatshoeva's artwork.So what was the inspiration behind Muborak's artwork? "The art piece I submitted was a painting of a girl," Muborak said. "The right part of her head was divided from the left part, as if her head were open. In between the two parts of her head I drew small pictures. They included drawings of a girl praying, a girl using a laptop, a girl by the window reminiscing her good time with friends, a family spending time together, a pigeon and the sun which symbolised freedom and hope respectively. Just above the girl's head, I drew a cloud. In it were a couple of hands throwing masks in the air which signified hope for the pandemic to end," Muborak elaborated.
Muborak said the competition presented her an opportunity to share her story and express her talent during this time. "I scrolled down social media platforms and I saw many teenagers sharing their stories and experiences in different ways; some through songs and others through videos. I wanted to share my thoughts too," Muborak said.  "I wanted to share that everyone is having a hard time right now but we're all in this together as we hope for things to get back to normal. We can use this time to pray, reflect or work on becoming better versions of ourselves."