Aga Khan Academy Choir Represents Mombasa County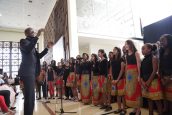 Congratulations to the AKA Mombasa Choir! They represented Mombasa County in Kwale

at the Kenya Music Festival Regionals 

on 06 June 2017 for the Junior Category and on 07 June 2017 for the Senior Category. They outperformed their competition by coming in first for all the classes they performed in.

We wish them all the best as they head to Kakamega this July for the Kenya Music Festival Nationals!