Africa's Dream Youth Basketball Tournament 2017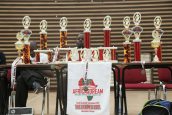 Trophies lined up for the tournamentAfrica's Dream is an organization with the mission to empower and encourage Africa's youth to dream big by using the game of basketball as a means of achieving their dreams. Their goal is to develop young African people, morally, ethically, educationally, physically and mentally in order to become productive and healthy young adults in their own communities as well as globally.
This year the organization chose the Aga Khan Academy Mombasa to host their annual national tournament. The Academy hosted a Member of Parliament, Mr Shariff Adbu-Nassir, Mr Hilmy Ali, the first Vice President of the Kenyan Basketball Federation and Mr Onyango Philip the coach for the Kenyan Women's Basketball team.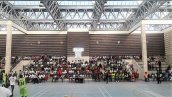 The audience waiting for the next gameMany teams from across the nation, including Nairobi and Mombasa, took part in the event. A total of 413 youths actively participated in the tournament. AKA Mombasa had their U18 boys team place into the finals and won second overall while the U18 girls finished fifth and U14 boys landed in fourth overall. The 31 AKA Mombasa students that participated gained valuable experience during the two-day tournament.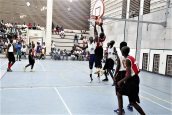 An action shot between two playersDavid Otieno, a student at AKA Mombasa, participated in Africa's Dream Basketball Tournament when he was thirteen years old. He took part in this year's tournament as a DP1-allowing him the opportunity to reflect on his growth as a basketball player throughout the years. In hindsight David said, "I realized that the tournament was about more than just basketball, it was about bringing people together no matter your nationality, height, age or skin tone. We all had one thing in common- we all loved basketball."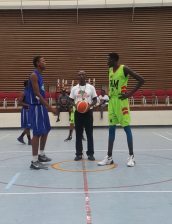 Opposing players attempt to gain control of the ballVictor Maisori Wambura, a DP2, was recognised as the "Most Improved Player" and earned a full scholarship to attend a ten-day youth basketball camp in Copenhagen, Denmark in July 2018. He is the first and only student from the Coast region who has been selected for this scholarship.
AKA Mombasa won the "Best Host" since Africa's Dreams inception four years ago and was acknowledged by the Centre of Excellence in Basketball.
David concluded his statement by saying, "This tournament really does represent the African dream- doing what you love and always getting better at it, but at the same time meeting new people and being happy…this tournament unites us by doing what we love."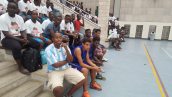 Coach Kimani diligently watching the gameA special thanks to coach Jimnah Kimani and Eugene Auka for all the hard work and determination they put in to create well-rounded and dedicated team members!