Academy students shine at the Oswal Academy MUN
Academy students won two awards at the Oshwal Academy Model United Nations held from 23 to 26 October. 
From 23 to 26 October 2019, 28 students from the Academy Senior School participated in the Oshwal Academy Model United Nations, held in Mombasa, Kenya. Despite several first time participants, our students showcased exemplary in-depth research and debating skills. Middle and senior school students from 8 other city schools took part in the event.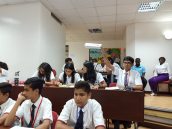 Nivyan Lakhani at OAMUNTwo members from the Academy MUN team delivered standout performances. Nivyan Lakhani (year 9) from Middle School MUN won best speaker in the technology committee. This is Nivyan's second feat in a row, having participated and won last year as well. This year, Nivyan was an ambassador for Malaysia and his resolution focused on addressing the lack of electricity production in Chad by commissioning and building three thorium molten salt reactors. 
Kaif Kassam (year 10) from East African MUN also won best speaker in the Global Summit where policy topics having global implications were debated.
Over the years, the Academy has built a strong MUN foundation through participation and organisation. MUNs bring together students to research, lobby, write and debate on contemporary problems affecting the world around us. We look forward to bigger wins in the years to come!