Academy students engage in mentorship event with primary students in Kwale County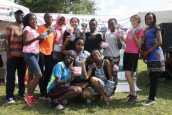 On Saturday 15 June, students from the Academy, the majority of whom are members of a student group called Funza, participated in a unique event organised by Samba Sports Youth Agenda Committee in partnership with the Aga Khan Foundation.
The event, which is in its 3rd edition, was titled "Gal-Power Fun Day and Values-Infusion Competition". It was held at Shamu Primary School in Bongwe Area, South Coast and involved about 240 female participants from different schools including Shamu, Bongwe, Mwaroni, Mabokoni, Zigira, Mwabungo, Kambani, ACK Tiwi, Mkwakwani and Mlungunipa. Other major organisations involved were: The Zainab Chitsangi Foundation, Coast Education Centre, Red Cross - Kwale, as well as values-based education trainers from Dream a Dream organisation based in India, who were in Mombasa to train teachers on values-infusion in school settings. The organisers identified local members as a way to inspire the girls in the mentorship programme. One of them was well-know TV acress, Caroline Rita Mutua. Our students, mainly from the student group Funza, supported the official mentors in their role to inspire and support these young girls.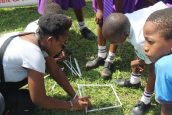 Funza is a student group started by DP1 student Bilal Adamjee through his personal project in 2018. The group aims to enhance creativity, passion and freedom of thought in education. Funza piloted its work by partnering with students from Coast Academy to improve their public speaking skills in January 2019. Below, Shekila Athman, DP1, and Maria Atieno, DP1, from the Funza communications committee, share their experience with us: 
"Our members attending the event were able to mentor girls between the ages of 13 and 14 years old, and sensitise them on the importance of love, respect, tolerance and diversity, which we also believe are powerful values that children need to foster in their lives. Through some speaking activities with the children, we prompted a few of them to talk out loud in front of us all. We were also able to collaborate with the mentors to emphasise the importance of them staying in school. The problems and challenges encountered by young teenagers, especially early pregnancies and drug addiction, were also discussed.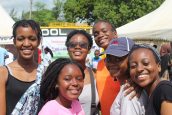 Furthermore, we were able to discover various passions these young girls have, and that inspired us to think of the ways we could help them unlock their potential by enhancing their confidence and leadership. 
We took some important lessons home with us as we plan to transfer what we learnt and implement them in our own upcoming event in September 2019. This event with Samba Sports enabled us to work with younger children, roughly around 12-14 years. We realised that they would be positively impacted by our organisation's aim to increase confidence of children as a pathway to passion-driven learning.   
All in all, we learnt the importance of young girls having knowledge of their basic needs and rights and how crucial it is for them to learn about this at a young age".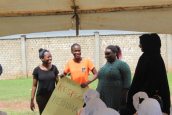 Another student, Sarah Samwel, DP1, also shared her experience with us:
"As a member of Affordable and Accessible Sanitation for Women, I saw this as an opportunity to create a partnership with Samba Sports in the aim of improving girls' life in Kwale County. I really loved the idea behind holding such an event because it brought together young people from diverse backgrounds and created bonds among them for the betterment of the society. Through this event, I understood the importance of teamwork and how it makes work easier, compared to trying to solve an issue as an individual. This event was an inspiration because we're planning to hold a similar event in Mombasa to bring girls together so that they can play, have fun and also learn from each other. There is so much talent among the girls but they are not given an opportunity to showcase and grow their talents. Personally, it was an eye-opening opportunity for me; I was able to understand some certain aspects of life that I usually take for granted. I'm privileged to access many necessities that not everyone is privileged to get. I learnt that I need to use all the resources effectively and responsibly." 
Lastly, our Service Learning Coordinator, Julius Menzah, who accompanied the students during the event said, "The values which were under discussion on this day were respect, love, tolerance and diversity. Our students found this connection very natural as they could relate these values with the Aga Khan curricular strands of culture and pluralism."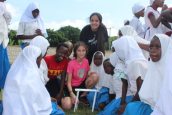 Check out Samba Sports' website where they featured our students in a blog post.