Academy student builds water filtration system to help Kilifi villagers
Ambuj Ranjan, a second year Diploma Programme student at the Aga Khan Academy Mombasa, has built a water filtration system to give Kilifi villagers in Junju village, in Kaya Tsolokero, Kilifi access to clean drinking water. His project was recently tested by Polucon Laboratories and declared fit for drinking. Here we learn more about Ambuj's experience in his own words. 
After having seen a village in a very dire condition, I was determined to do something to help its people. The village was called Junju, in Kaya Tsolokero, Kilifi. My mother had been researching on this village for her PhD. So when I questioned her about her impressions about the village, she replied, "Imagine how lucky we are to have all the amenities we need to survive. These villagers have unclean water, scarce supply of food and no electricity."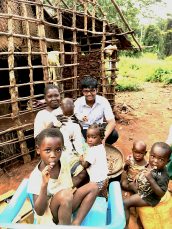 Ambuj Ranjan in Junju VillageOnly when I visited the village personally, did I understand how poor their living standards were. I had to do something, even if it was something small scale. Using my personal funds, I decided to make a water filtration system that would make their water more suitable to drink. This was a very simple project, and relatively inexpensive to build. 
I researched on the villagers' primary source of water-a river. However, since the water in the river has a lot of impurities in it, it tends to have a bad smell. This makes the villagers extremely prone to diseases like diarrhoea.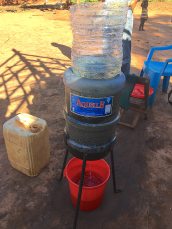 Ambuj's water filtration systemMy project aimed to purify this dirty water, and make it fit for consumption. The water filter makes use of gravels and stone chips, which helps trap small dirt particles in the impure water. It also uses activated charcoal to remove bad odour from the unclean water. To remain cost efficient, I decided to make activated charcoal instead of buying it. This also enabled me to recycle waste. I used orange peels and coconut shells to make activated carbon. However, the yield of the activated carbon made was not that high, so eventually I bought some activated carbon to initiate the project.
Setting up rest of the model was fairly easy. I put all of the materials including gravel, stone chips, sand and activated charcoal in an 18.5-litre bottle to make the filter. The filtered water was tested by Polucon Laboratories, and declared fit for consumption. Overall, it took me 7 months to complete the project from February to September. Looking forward, I would like to scale up this project to impact more villages and benefit other disadvantaged people.