The Academy Celebrates the Class of 2018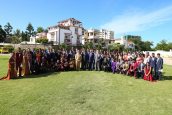 The Class of 2018 On 19 May 2018 the Aga Khan Academy Mombasa commemorated its 12th graduation, celebrating 76 graduating students who have been offered over USD 6 million (600,000,000 KES) in scholarships and financial aid to some of the world's top universities, including Yale University, Brown University, University College of London (UCL), University of Melbourne, University of Toronto and McGill University.
The mission of the Aga Khan Academy Mombasa is to create ethical home-grown leaders for the developing world and the African continent, who will work towards the goal of sustainable development. What makes the Academy unique is that it identifies and nurtures exceptional young people from a wide range of national, religious, ethnic and socio-economic backgrounds to create a learning community that is exceptionally diverse, open-minded, culturally rooted and driven to make an impact on their communities and the world. 
The Academy provides access to world-class primary and secondary education, and in doing so, prepares students for the best possible opportunities in tertiary education and lifelong learning. A great school, His Highness the Aga Khan said, "will educate its students not merely to be personally successful but also to use their gifts to build their communities and enhance the common good to levels beyond our dreams."
The guest speaker at the graduation ceremony was Dr Mahmoud Eboo, the Resident Representative of His Highness the Aga Khan and the Aga Khan Development Network (AKDN) in Canada.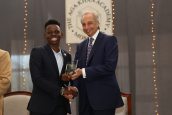 Dr Eboo awards Stepehen Githakwa the Award of Excellence. Saumya Gupta was the female awardee Dr Eboo contemplated on the fact that this year marks 60 years of His Highness the Aga Khan being the religious leader of the Ismaili Jamaat– his Diamond Jubilee, 30 years since the Academies were envisioned and 15 years of the existence of the Academy.
The event was emotional for the graduates and their families, friends and teachers; all looking back at the journey that led them to where they are today. 
For some students, this experience at the Academy had at one time been an unattainable dream. Paul Davis, the Dean of Admissions, has passionately led the Academy's Talent Identification Programme for the past 10 years. This programme reaches out to academically able students with leadership potential within Kenyan government schools in both socio-economically and educationally marginalised areas of Kenya and provides them with financial aid to attend the Academy. By enabling these talented students to receive a high-quality education that allows them to access the world's best universities, this programme dramatically changes their opportunities and their long-term ability to help their families and communities. The 2018 graduating cohort consists of seven students within this programme.
Among these students is William Baya. Before joining the Academy in 2011, his motto was "Front ever, back never." This self-drive within William has guided him through his six years at the Academy and allowed him to receive a full scholarship to attend Washington and Lee University in the United States. William comes from Ganze subcounty in Kilifi County. Davis met William when the Kilifi County Governor reported widespread hunger in the area.
"I'm a first-generation student to attend university, making this a very huge step not just for me but my family too," says William. He will be pursuing a degree in Physics and Engineering and has "become deeply ingrained with the school's mission, to create home-grown leaders". William believes that the plethora of opportunities he will receive in university will equip him with the necessary skills to cope with issues not just in his community in Kilifi, but also the global community at large. 
Along with William is Prudence Hainga, hailing from Kisumu. Prudence is a MasterCard Foundation Scholar and will be attending the University of Edinburgh fully funded to study Political Science. 
"I want to realise my childhood dream of fighting injustice and corruption in Kenya...learning how political systems function and what others have done to ensure sustainable development as well as spread out opportunities for their citizens...I am motivated to use my knowledge as a weapon against discrimination and inequality and work for a better Kenya – a Kenya that feels like home to all," says Prudence.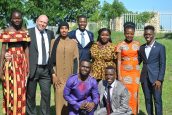 Paul Davis with the Talent Identification Programme cohortThese young men and women started off with nothing more than their talents and big ambitions when they first joined the Academy. Through their journey here, they have been challenged, nurtured, and have grown exponentially to exemplify the leadership potential that was identified in them by the Admissions team. 
Samantha Caras, the Academy's University Counsellor, put it aptly when asked what university representatives find most interesting about students at the Academy: "University representatives are usually impressed by the way our students present themselves and their dedication to giving back to their home countries. Rather than focusing on themselves and what they are going to get out of a university or a degree, our students are often asking about opportunities they will have to give back and to use their degree to create a better future."
In recognition of the exceptional talent and leadership potential in the students from the Academy, some of the other notable scholarships that have been awarded to the Class of 2018 include: Akshi Khimji (University of Alberta Global Citizenship Scholarship for IB Students), David Kairu (International Leader of Tomorrow Scholarship at University of British Columbia) and Matthew Wabwire (Drexel Global Scholar).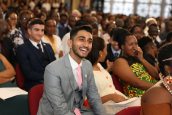 The graduates enjoy a light momentThese are but some examples that provide a testament to the transformation of the Academy's vision into reality: creating ethical, home-grown leaders that are both culturally rooted and internationally minded, perfectly placed to change the world we live in.