Academy alumnus swims at the Olympic Games
Aga Khan Academy Mombasa graduate Joshua Tibatemwa represented Uganda in the men's 50-metre freestyle swimming at the Olympic Games in Rio de Janeiro, Brazil on 11 August 2016.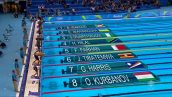 The 19-year-old swam close to his personal best to achieve a time of 25.98 seconds, which placed him 64th in the competition – an excellent result at the highest level of international competition. Joshua is ranked the overall fastest male swimmer in Uganda, having set two national records at last year's World Championships in Kazan, Russia.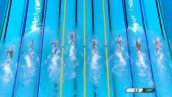 Joshua was already swimming internationally for Uganda when he joined the Academy in 2013 to access the rigorous academic programme offered while also being supported to continue training in swimming at a high level. He joins a widening group of former Aga Khan Academy Mombasa pupils to have represented their countries in major international events, including Sabrina Kassam, who represented Tanzania at the Nanjing 2nd Youth Olympics in 2014 (swimming); Anham Salyani, who was selected to represent Kenya in the 2010 Commonwealth Games (Swimming); and Hanifa Said, who represented Kenya at the 2014 Commonwealth Games in the triathlon event.
The Academy encourages its students to strive for excellence in all areas, including sports, and supports them in their training to enable this. Through sports, students learn not only how to achieve their best but also important values such as teamwork and respect for others.
In a speech Joshua gave when graduating from the Aga Khan Academy Mombasa, he said, "Do not gauge your abilities by comparing yourself to someone else. If you look to your left or right you will find a classmate and a teammate, not your competition. You do not benefit from being better than the person sitting next to you. I do not often quote people because I am ambitious in that I hope to be quoted myself one day, but Ernest Hemingway once said 'There is nothing noble in being superior to your fellow man; true nobility lies in being superior to your former self.'"